After Dusk, now the next retro FPS to look for is Amid Evil.
Features (nothing really special, honestly, it's just a solid old school FPS)
SEVEN distinct episodes each featuring a completely different setting and enemies
LUDICROUS magical weaponry that can be overcharged with the souls of the dead
ENDLESS Hordes of Evil to hone your skills against
BRUTAL and adaptive enemy AI that will hunt you down on land, sea and air
SPRAWLING non-linear levels filled with secrets and ancient lore
MULTITUDES of in-game options + cheat codes for a truly golden PC age experience
EPIC original & dynamic soundtrack composed by Andrew Hulshult
BUILT in Unreal Engine 4 for cutting edge visuals (even if they are a bit retro)
OPTIMIZED to run on a toaster (a pretty nice toaster)
The feature I would highlight is the first one, it changes setting a lot with 7 episodes of 4 levels each one, and each brings some new enemies. So good variety.
The game is in Early Access, I only played the first two levels (my impressions were positive), right now I'm waiting until the game reaches 1.0 to play it fully. Which should be soon, they have releases 6 of 7 planned episodes.
The gameplay is solid and fast, but I what I really like is… the art style. It's retro yeah, I refer especially in how it uses a weird, otherwordly high fantasy style, almost gaudy, where greens and purples are common, scenarios have an abstract quality (like 90s shooters) that actually kind of makes sense if you are going to fantasy realms, they have with curves and archs and domes everywhere, like it was all designed by a mad wizard, apart from secrets, moving parts, and all that.
It's hard to explain, but I guess it's much easier to just show it. Sorry, but time to make your browser suffer! :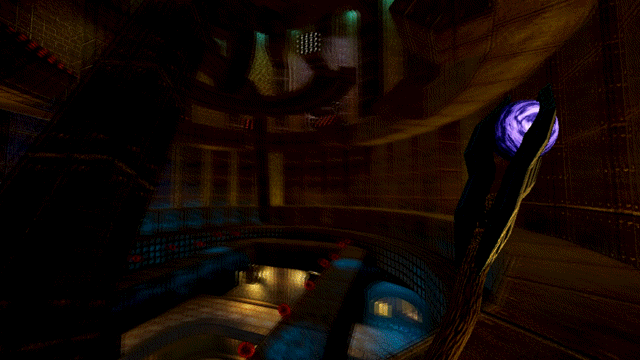 In reality, while the enemies use the typical chunky models without that many polygons, the game looks really nice because it uses UE4, in that regard isn't precisely 'retro'.
Trailer of the last episode released, that is even more otherwordly than the rest