This dropped on Early Access on Tuesday and sold over 100k units in 12 hours, catapulting it to the #1 best sellers spot in Steam. It had a messy launch - the dev team apparently didn't think it would sell THAT well - and there are many negative Steam reviews as a result, which isn't very fair to the game. It seems like the devs have been working around the clock to fix any immediate issues too as there have been something like 7 or 8 hotfixes and patches since release.
It's a(nother) survival game, but it has dinosaurs and other prehistoric life (dodos, sabertooth tigers, etc) as its "enemies". It shares a lot of similarities to Rust in terms of housing and player life - when you log off for the night your character goes to sleep, leaving you vulnerable to being attacked or looted. Buildings currently work in a snap-to system, so there isn't a lot of room for customization or modifying the basic structures.
The big difference/selling point for me is that this game has leveling, which sets more of a goal. I would often find myself bored in survival games because I am not too keen on having to make my own fun - once I find a nice gun and a car, I'm not really sure what to do next (no interest in banditry…). This game gives you a path to follow - as you level, you gain "engram points", which you then spend on blueprints for new items. At lower levels you have basic tribal weaponry and tools, but eventually you can get to guns if you have the right materials. Your level is persistent per server and doesn't reset when you die (though you do lose your stuff). There's also some sort of system where you can upload your character's data and use it on other servers or something, but I'm not real clear on how it works. You gain experience through crafting and killing creatures and dinos (and maybe other players?), along with a constant increase rate of .1 every, like, ten seconds to fifteen seconds.
The other neat feature is that this game has a pet mechanic, where you can tame and even ride certain dinosaurs. Here's a picture of me riding this pig-elephant creature while my pet dodo follows us.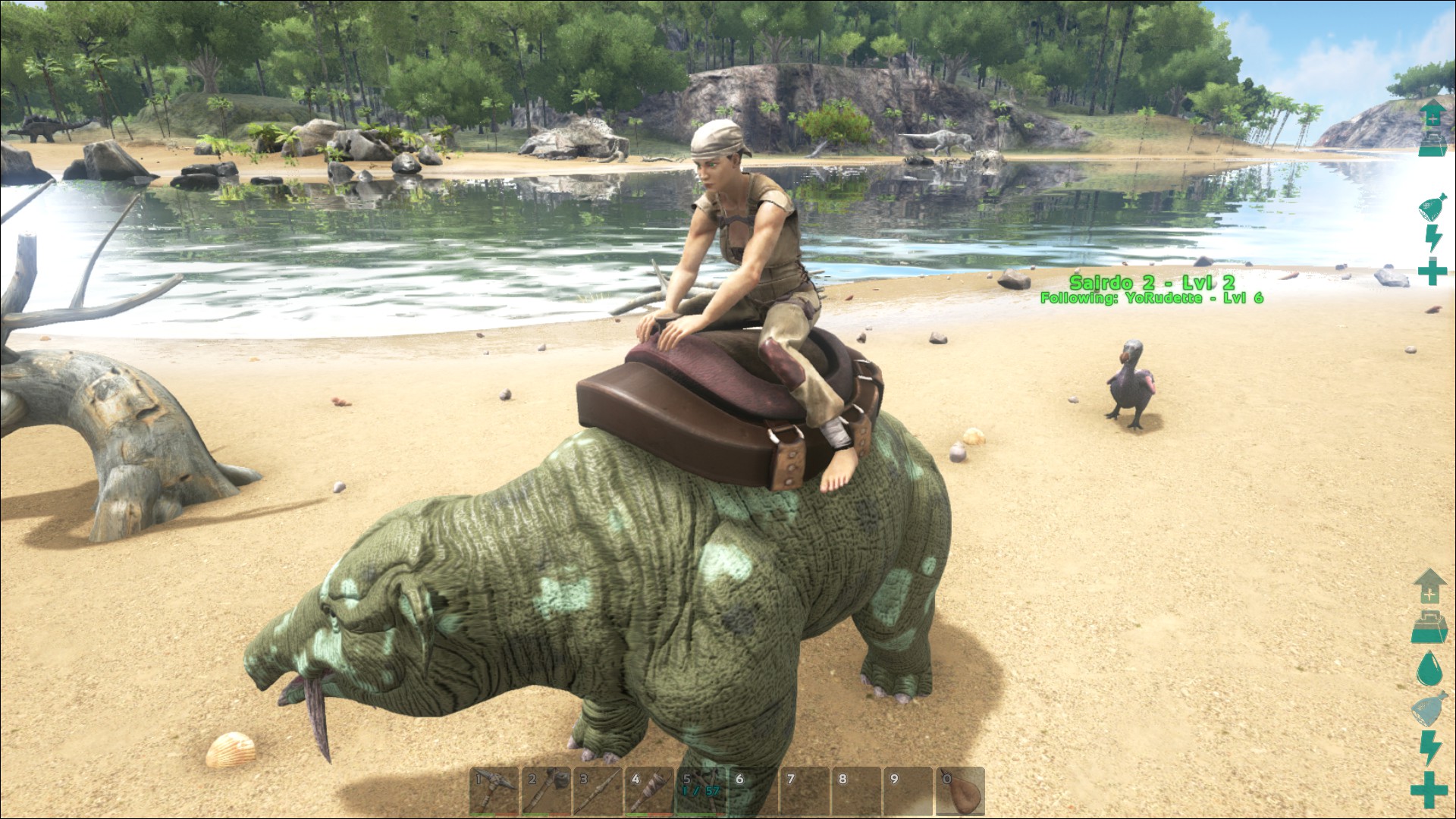 The companion AI is a little clunky, though, and the pathfinding sometimes gets them lost. Taming them can be very time consuming too, depending on the type of creature or its level. There are currently 25ish creatures in the game, with an eventual goal of 70+ at release.
The story is set up like a mystery - you awaken on this mysterious island that is filled with extinct creatures and there are these big floating structures that are seeable from any point on the island. The island itself is huge - each server I've been on has had a population of 70 people and I have rarely met anyone outside of spawn areas. It apparently has several underground and underwater cave systems, which have rare materials and items you can find, but I have yet to discover any of them.
It is an incredibly system heavy game, and I can't run it on "EPIC" graphics even with my 970. The dev team has stated that optimization and streamlining is #1 on their tasklist, as most of those negative reviews have been criticizing the framerate.
This is easily one of the most complete early access games I've ever played, but it still could use some polish. If you're a dinosaur nut like me then it's a no brainer, but I am not sure I can heartily recommend it to the masses just yet.
Oh, it also has pooping. Press Z to poop. Sometimes you just automatically poop too.