Crap I just missed out on watching Matsuzaka's two innings against Boston College.
— Alan
Because those won't be shown all over NESN until his next start. :)
You could probably get the archive off MLB.tv for a fee.
It's kinda meaningless. If you just want to see his delivery just Google/You Tube it. His first start of the season is what I'm waiting for.
The gyro is just a cutter anyway. He either has a decent heater to make it work or he doesn't. (I'm guessing he does, based on the money.)
I'm already paying for it and went on the video stream just as the 3rd started… I'm sure I could watch it again archived if I wanted to.
— Alan
The gyro isn't just a cutter. What he throws (at least by his claim) isn't a gyro anyway, so the pitch people think is a gyro that he throws might be a cutter.
Will Carroll of Baseball Prospectus (among other things) has done some columns on the gyroball in the past.
You're right that it's not exactly the same thing. However, it pretty much serves the same purpose but with some sliding action to it as well. It sounds like he doesn't even use it that much anyway. (Not that people don't want to see it, hehe.)
The big deal with it isn't just the movement; it's designed not to put any extra stress on the arm, unlike a slider (for example).
I suspect the only reason people make a big deal about it is because it was designed in a lab, not on the field. Then again, if it is a great pitch, it'd be the first big addition to a pitcher's repertoire since the split-fingered fastball.
The "not 'invented' by a player" is a huge reason major leaguers and pitching coaches scoff at it. Heck, there are still plenty of teams/people that scoff at the value of statistics.
Carroll makes it pretty clear that it's much more side-to-side break than up-down, where a cutter is a fastball with a bit of side-to-side. And, as steve pointed out, it produces far less stress on the shoulder and elbow (which is why Carroll has been preaching it for years. His focus is on injury and prevention).
The Onion brings the Dice-K funny.
"His Ultimate Galactic Dragon Gyroball Pitch Power Explosion breaks three feet inside before cutting sharply toward the dugout, where falsehood and cowardice are forced to shrink before it!"
Last year at this time, there were numbers showing that Albert Pujols' dug more skipped throws than any other first baseman in baseball. This spring, The Hardball Times offers an OOZ rating for fielders — basically tallying the plays a fielder makes outside of a zone assigned to his position. As discussed over in Viva el Birdos – the seminal Cardinals' fan blog — the major-league leader in OOZ was none other than Pujols.

And it wasn't even close.

According to The Hardball Times' figures, Pujols had 93 out-of-zone outs in 2006, 25 more than the next closest defensive player, and that was speedy center fielder Willy Taveras who had 68. Juan Pierre, another fleet center fielder, had 67 and third baseman Scott Rolen made 66 OOZ plays. Pujols' lead is even more striking when the list is pared down to first basemen:

Albert Pujols, STL … 93
Adrian Gonzalez, SD … 65
Todd Helton, COL … 62
Adam LaRoche, ATL … 61
Nick Johnson, WSH … 57

Helton has multiple Gold Gloves and Gonzalez is the true challenger to Pujols and Derrek Lee as the National League's best defensive first baseman. But how to explain the startling gap between Pujols' OOZ and every other position player?

One obvious possibility is the tighter zone assigned to first base, meaning any first baseman who strays just a bit from his designated zone can accumulate OOZ. The other — but unrelated possibility – is that Pujols is channeling his inner All-Star debut and plays a little second base from time to time. Already this spring we've seen him move to his right, cut in front of the second baseman and make the play. He often dashes over to glove and start a double play.
My friends and I had this unofficial campaign going, refusing to call the renamed The Ballpark in Arlington "Ameriquest Field" after they sold the naming rights for a paltry (IMHO) sum. It ruined the uniqueness of the name, the place, and just seemed really cheap.
Today the Rangers announced that they kinda/sorta took the name back, now calling it the "Rangers Ballpark in Arlington". I still like the "The" part rather, but the cool thing is that you don't have to say the Rangers part and you'd still be right. One part of the ship has finally been righted again…
http://mlb.mlb.com/news/article.jsp?ymd=20070319&content_id=1850374&vkey=spt2007news&fext=.jsp
— Alan
You'll enjoy this quote from over the weekend then:
"It'll be someone deserving, who has demonstrated that they are deserving by paying a lot of money."
–Nationals president Stan Kasten, on what the new Nationals ballpark will be named after. (Joe Capozzi, Palm Beach Post)
For years the owners (mostly Hicks) wanted to get naming rights for the uniquely-named stadium and couldn't wring it, till the Ameriquest thing happened. The deal in my mind is ridiculous - 30 years, 75 million. That's piddlewinks. And the name just sucks the life out of going to a unique park - which frankly I think deserves its uniqueness. The only other name I would have accepted is Vandergriff field or park, named after the mayor of Arlington who brought the Rangers there in the first place.
Now it's mostly gone, and the only real "problem" is that they have to remove the home run bell. Big deal.
You other teams can go sell out all you want. I want to like the Nationals, but I hate their name (should be the Grays dammit) and all that crap they went through just to get a superbly expensive stadium. Yuck.
— Alan
Oh my. I remember when our stadium was named Enron Field. Good times…
So, tonight my brother (attending spring training) sends me a text: "Billy Jack looking good tonight against the Dodgers."
I spend most of the evening wondering which Cardinal pitcher "Billy Jack" is.
Just now, it clicked.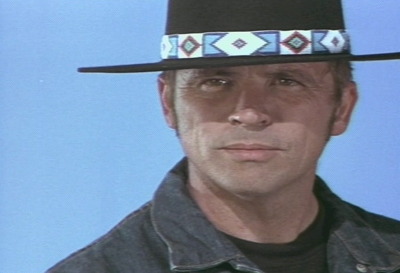 If nothing else, Anthony Reyes has style.
Well, Matsuzaka sure looked worth it yesterday. Several of the baseball blogs I read are already crowing "zomg AL Cy Young!!11!" I won't go that far, but I'm sure glad the Red Sox got him and not the Yankees.
Fuck the Yankees AND the Red Sox.
Erik J.
I agree. Go Rangers!
Was enjoying watching a bit of the snow non-game in Cleveland today.
— Alan
Hey, neither of them is responsible for Peter Angelos. He's your own home-grown brand of suck. Worst owner in baseball? I think so.