Mr. Bismarck's Cavalcade of Whimsy.
"McBoaty McBattleship Simulator"
Boaty McBoatface goes Bang!
That sound's wrong somehow… :)
Oh no, thats how we'll know your game forever now BmcBgB!
"MBMBS" is actually pretty nice :) It rolls right off the tongue!
I'm getting a lot of crazy ideas for EasterEggs here… :)
Command Of The Sea - Trailer
We had some fun creating a Blockbuster-Style Trailer, hope you enjoy it too! :)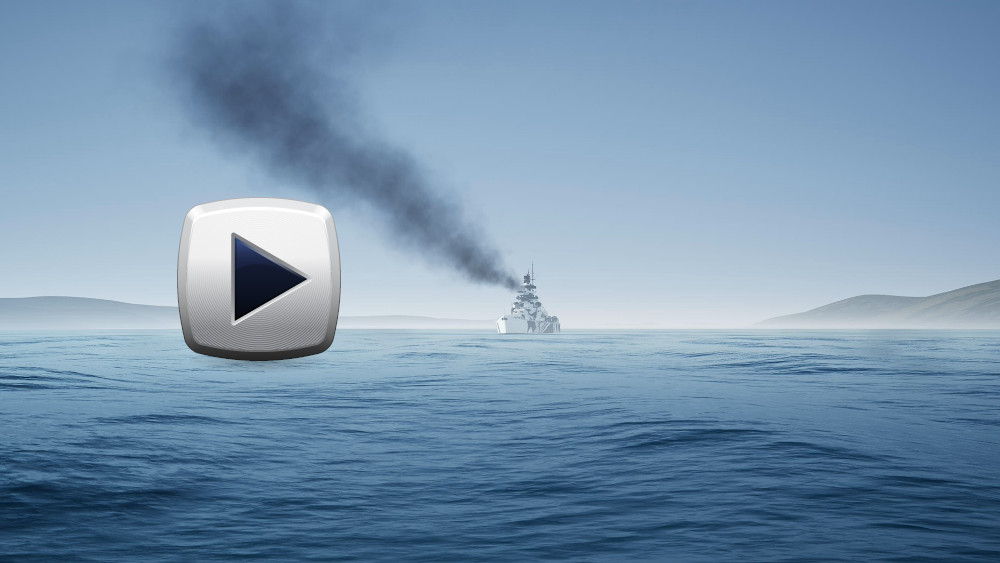 It's a Bismarck!
Ladies and Gentlemen, it's a Bismarck!
At least in the making… :)
We've initially applied the camouflage that was used during the Battle of the Denmark Straight following May 24th, 1941.
Although she might not be as appealing as her sister Tirpitz with her Baltic Camo, it's easily visible that this painting scheme is very effective against a bright horizon in the North Atlantic. It's a painting scheme for a work horse!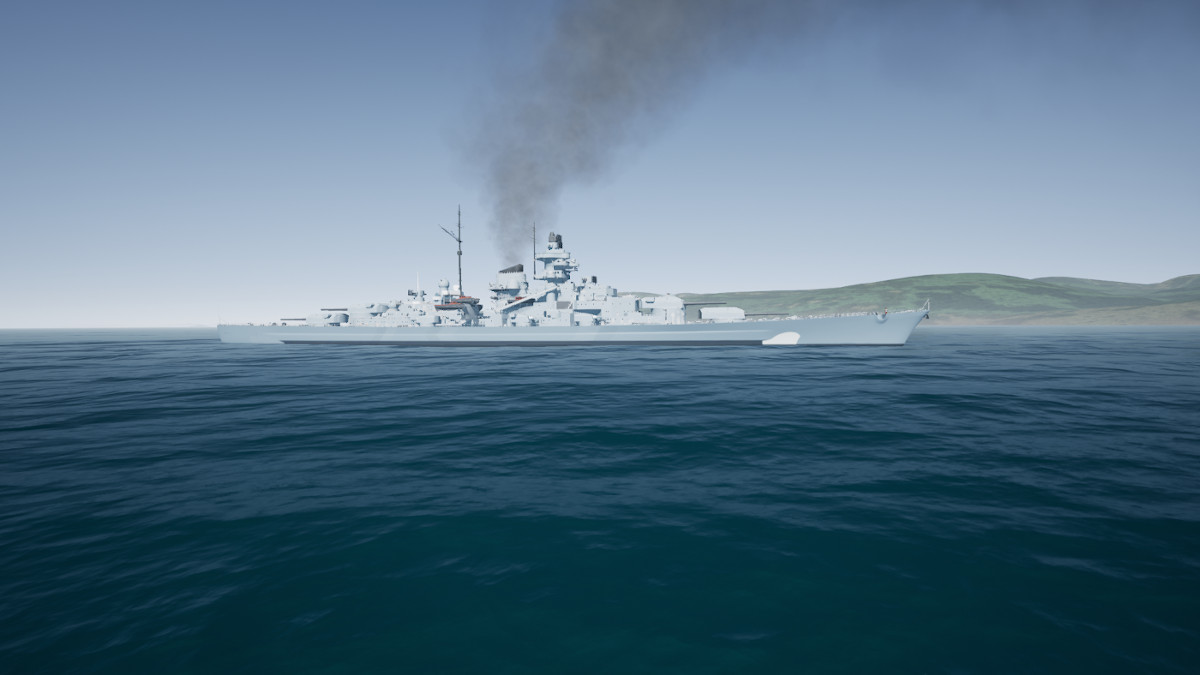 That's a pretty ship you got there. Be a shame if something were to happen to it…
I just need to tick a few checkboxes and she's unsinkable! :)
I'd have a squadron of very disappointed stringbags if that happened ;)
I want to see if I can sink that puppy without all the cheats that were used before - torpedoes and planes :)
Bismarck Closeups
Today I'd like to share a few more details about the latest improvements we've applied to our Bismarck Model.
If you take a close look you'll see that parts of the previous camouflage is shining through at the hull and the main deck. That's NOT because we were lazy… :)
We've used pictures of the German "Bundesarchiv" as reference, like the one at https://upload.wikimedia.org/wikipedia/commons/7/75/Bundesarchiv_Bild_146-1984-055-14%2C_Schlachtschiff_Bismarck%2C_nach_Seegefecht.jpg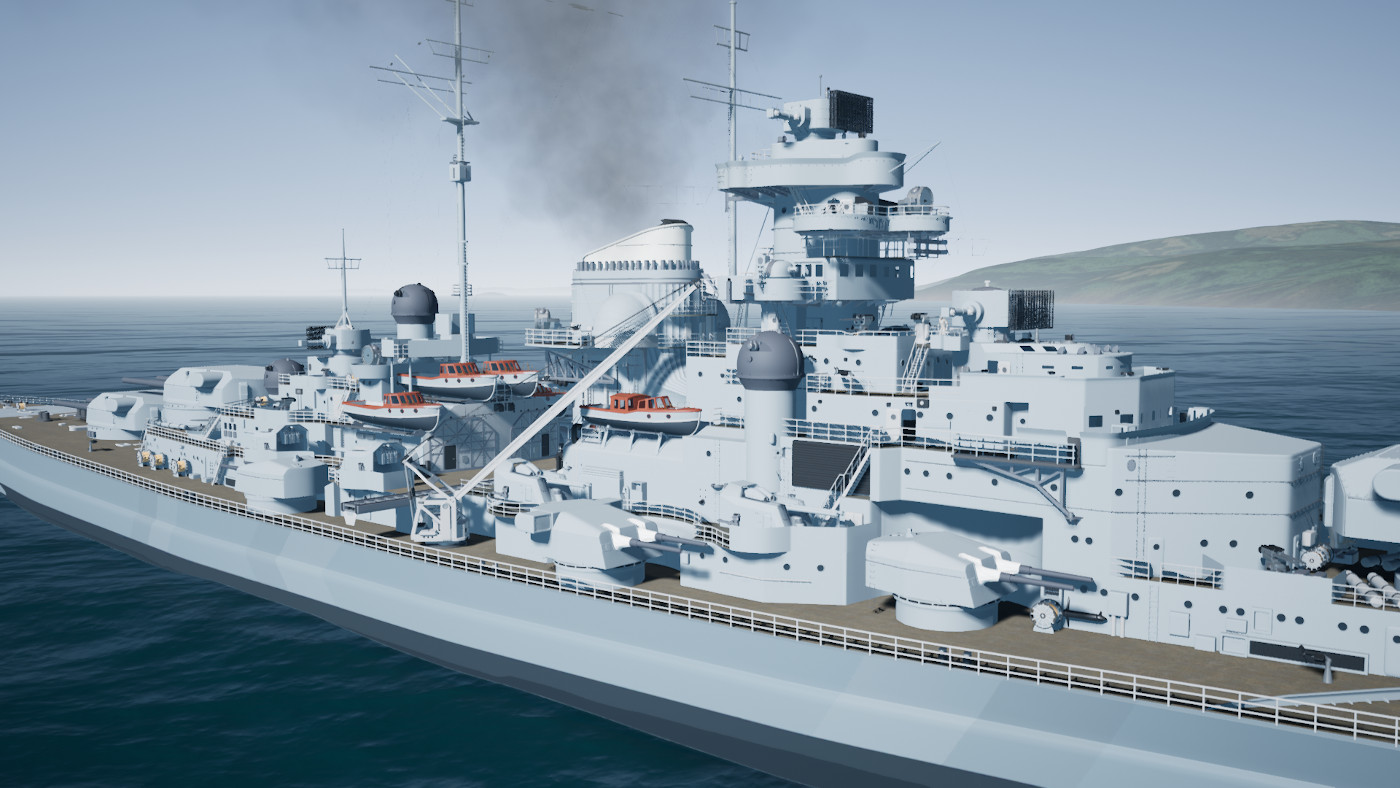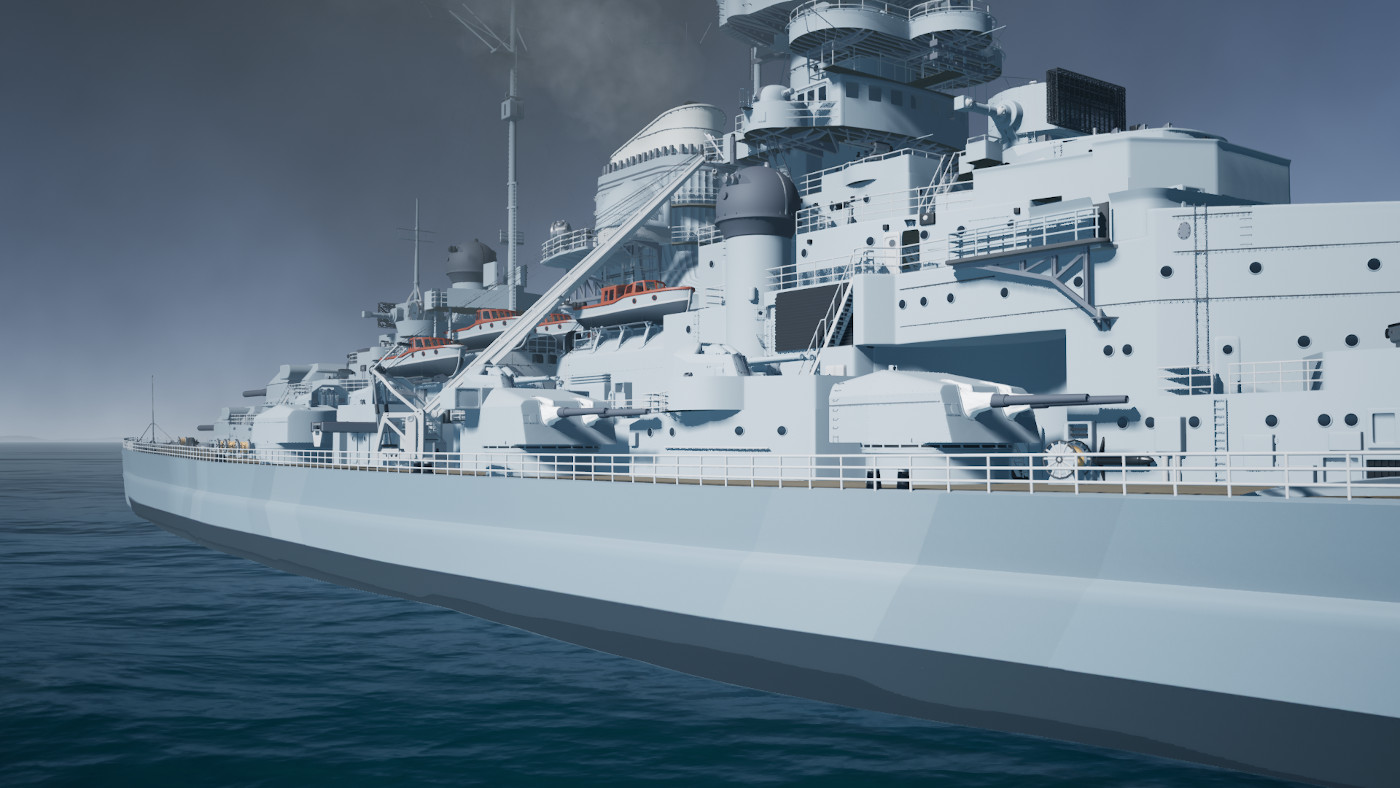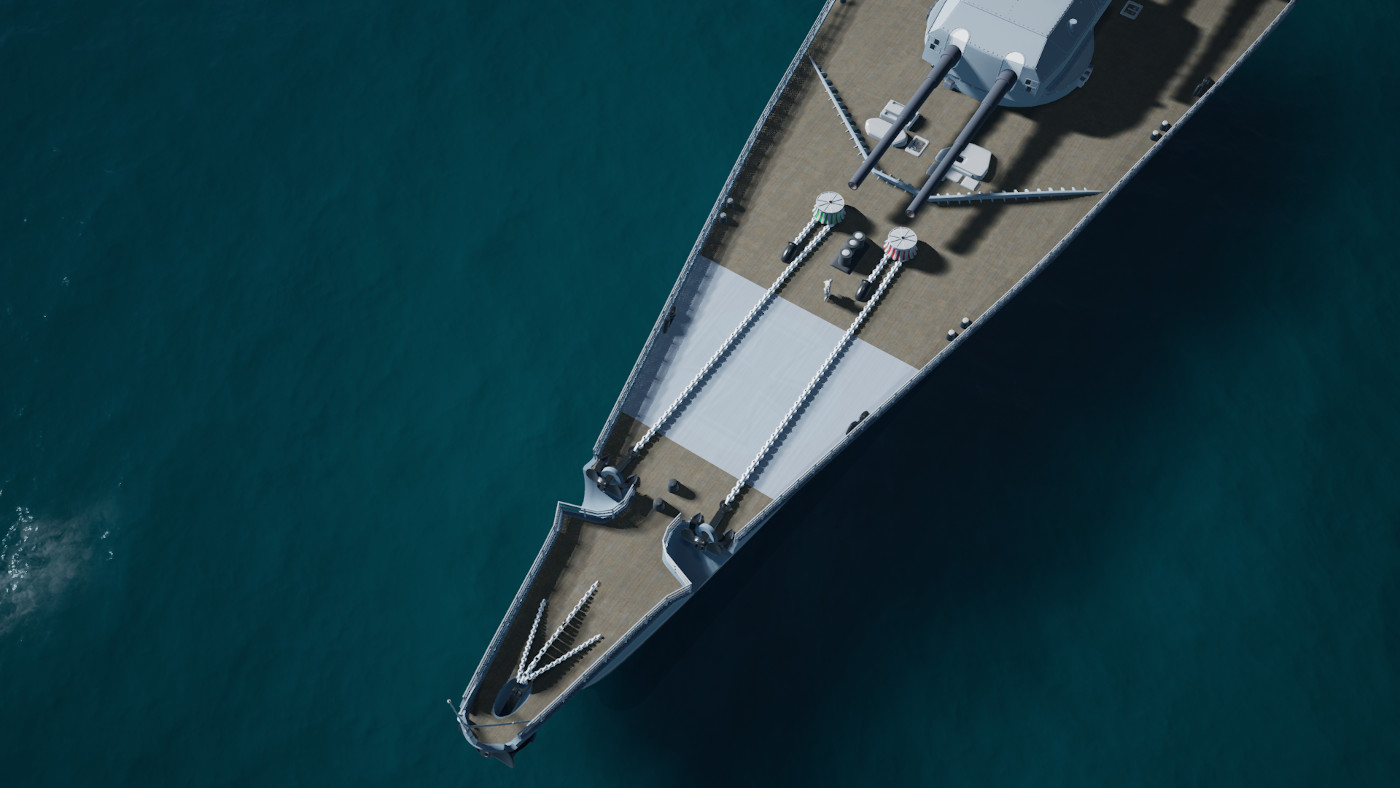 As you can see there the old camouflage is still shining through, the black & white stripes on the hull were hastily painted over on May 21st, 1941 in Korsfjord, and the swastikas on the main deck on the following day (as no more air recognition for the Luftwaffe was needed where she shall go).
We've also started to apply a decent "wetness" effect at the waterline, this is only static at the moment, but we do have plans already to make it dynamic so it really is only applied were the hull get's wet due to the waves.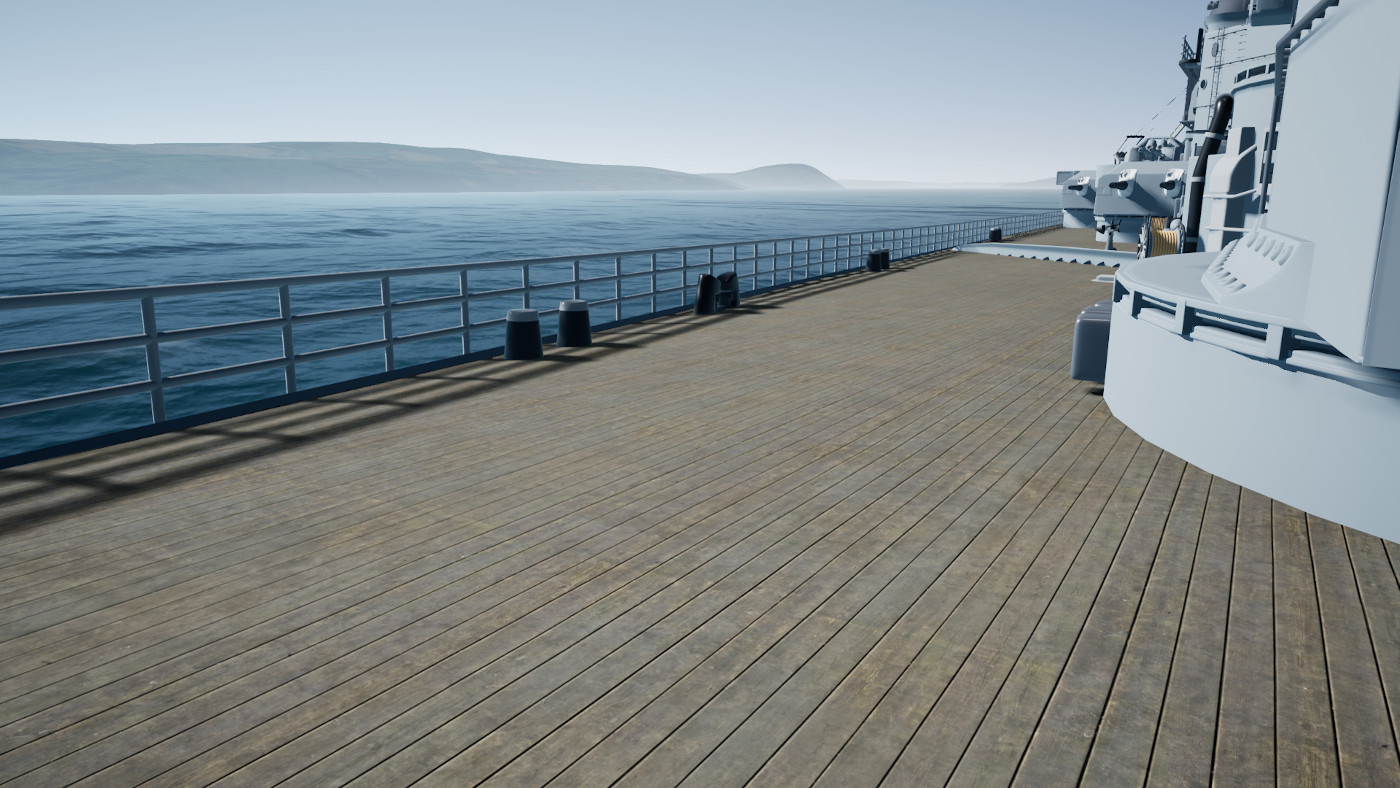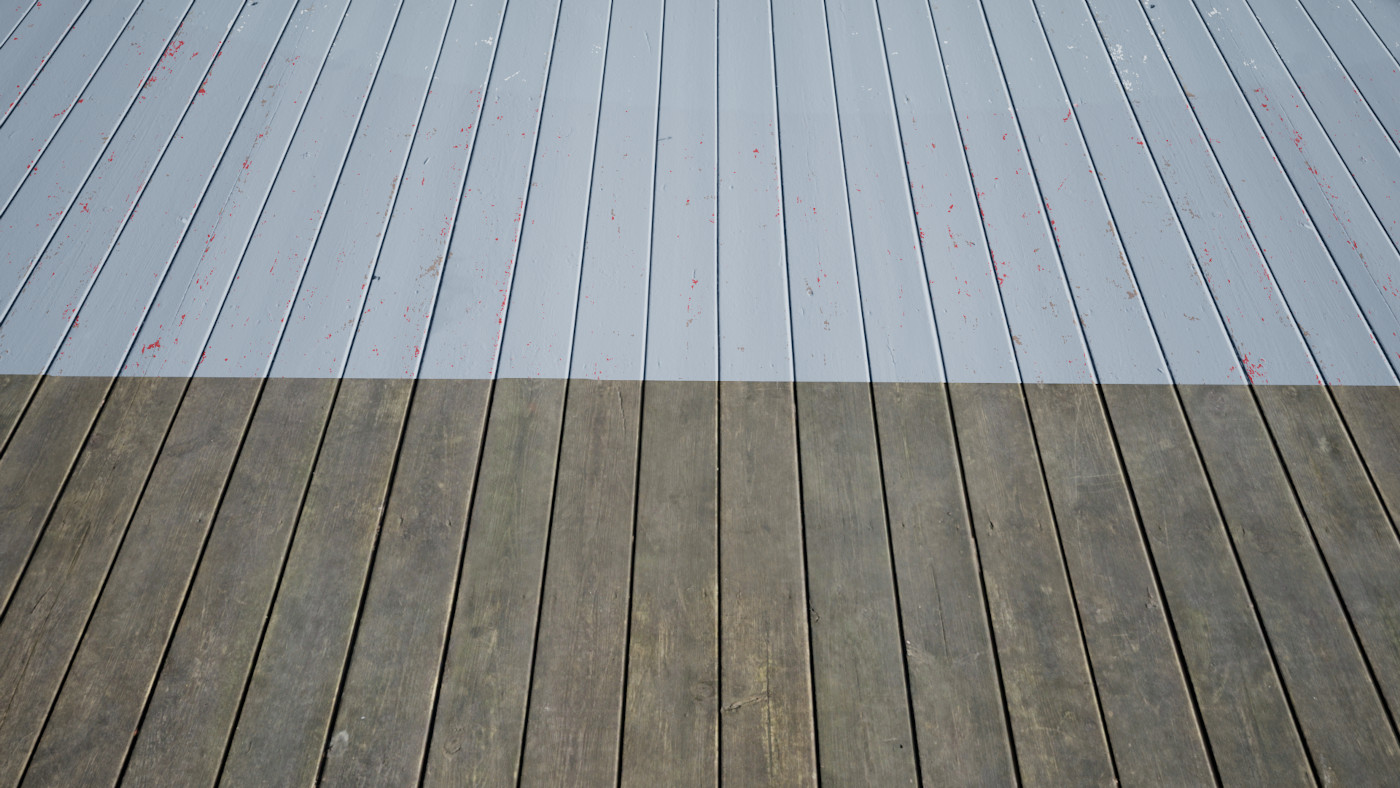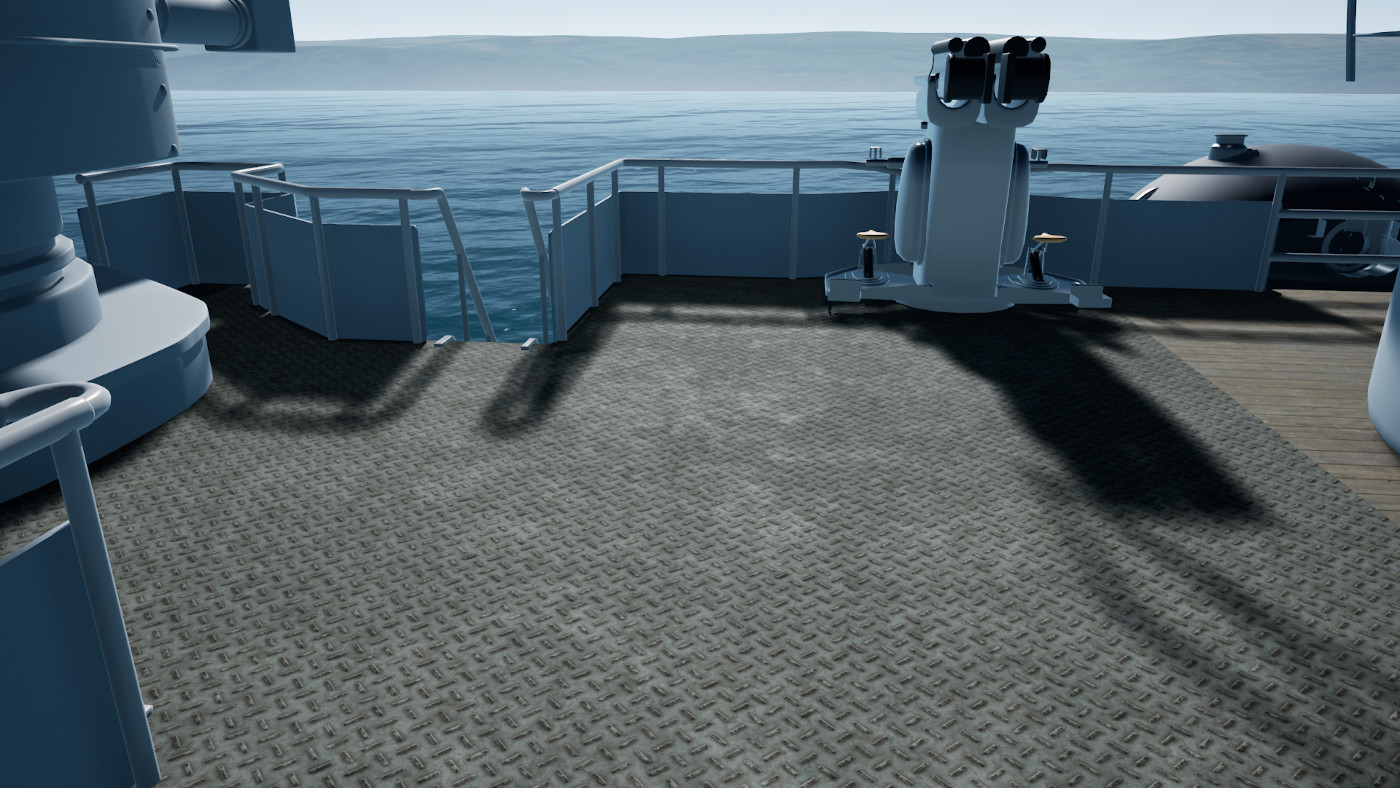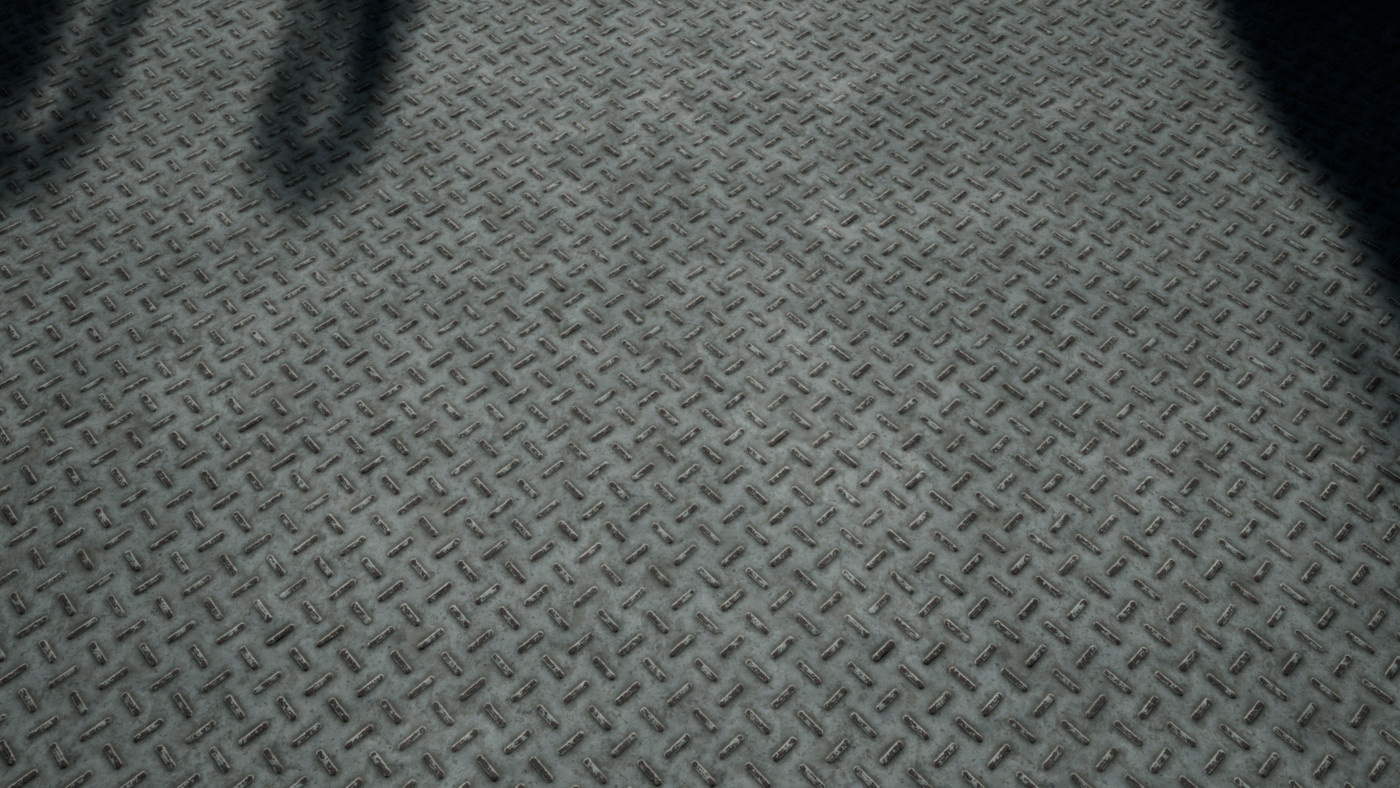 And we've overhauled the surfaces of our decks with physical based rendering materials, a nice looking, slightly worn and at some places painted wooden deck, and a tread plate deck. I really love the looks of it. The only downside is that I'm very unhappy now with the remaining materials on the ship, we'll have to improve them too sooner or later. But the potential for photo realism is really a great outlook :)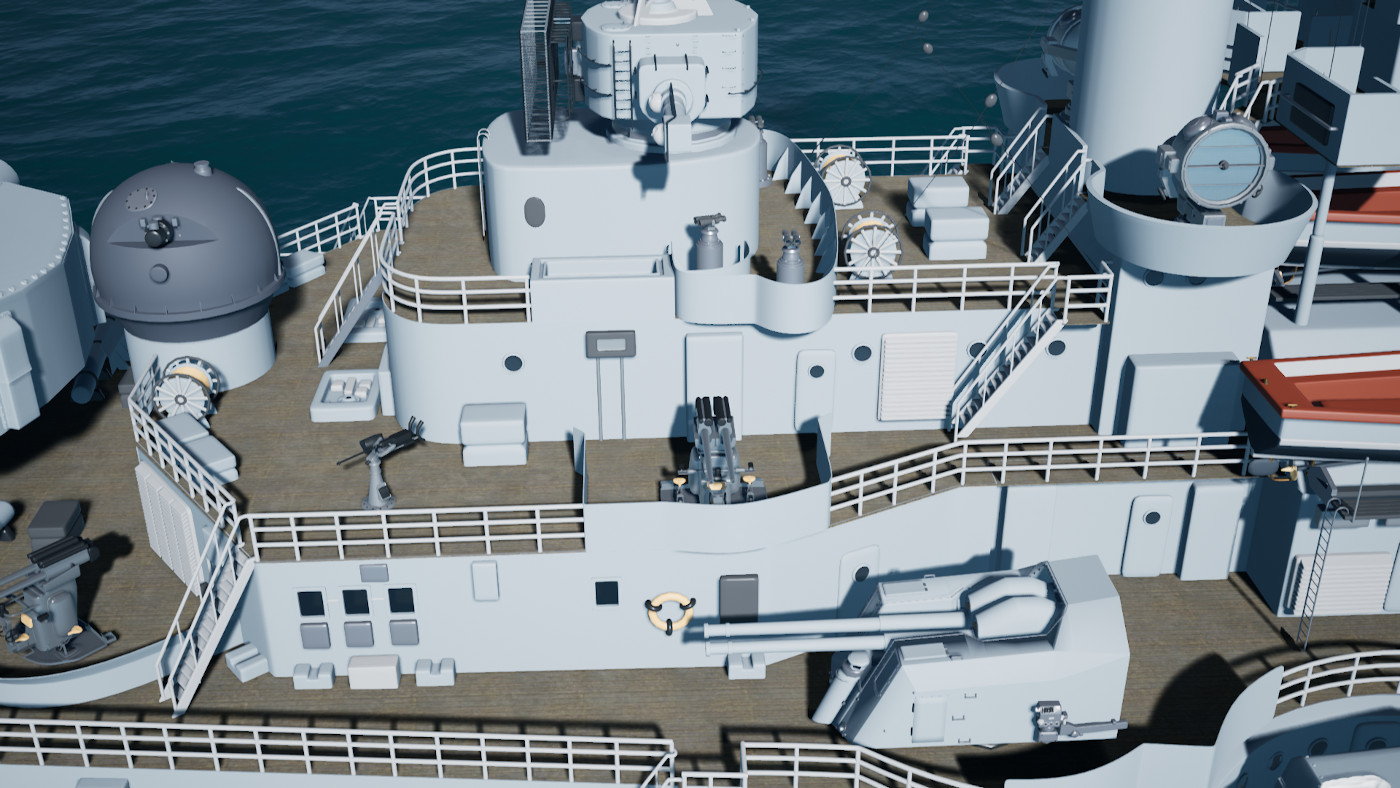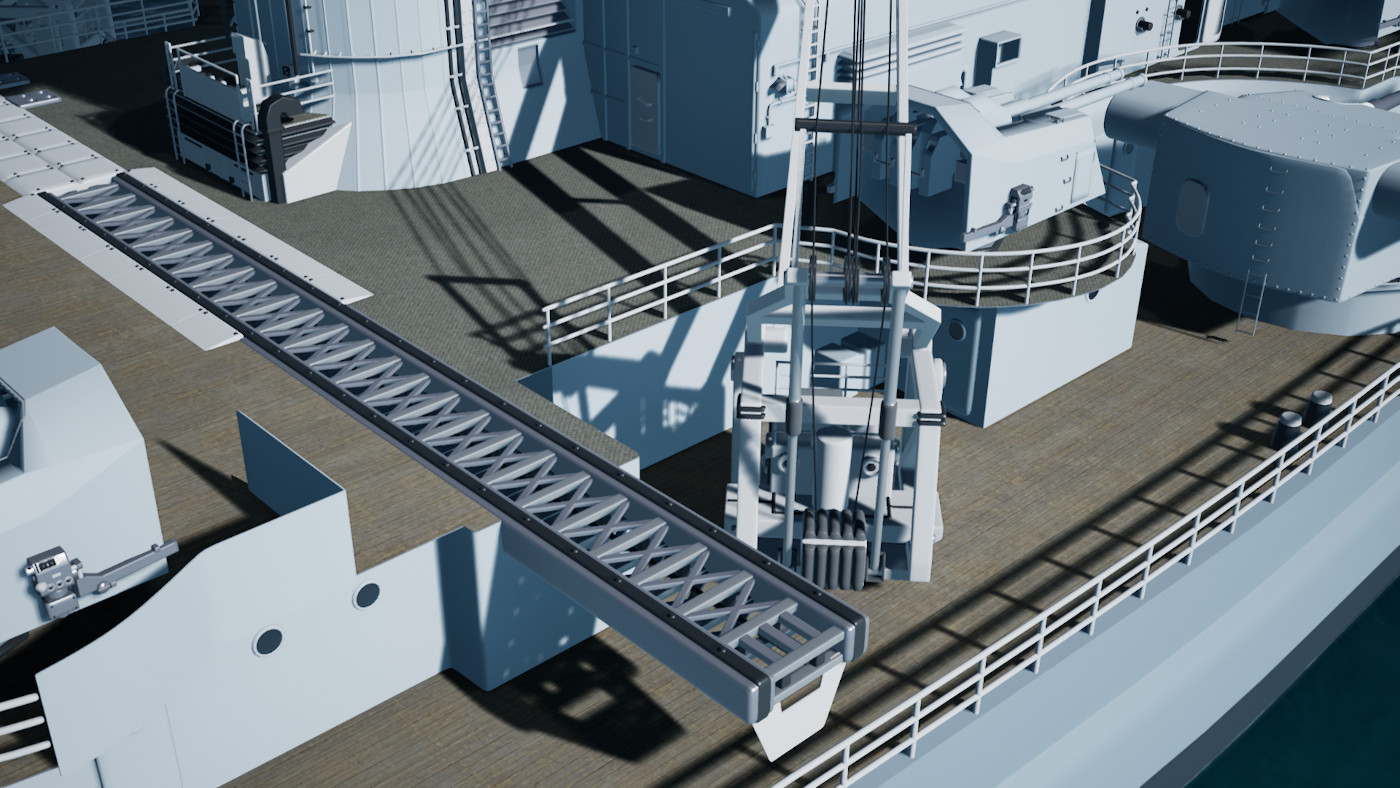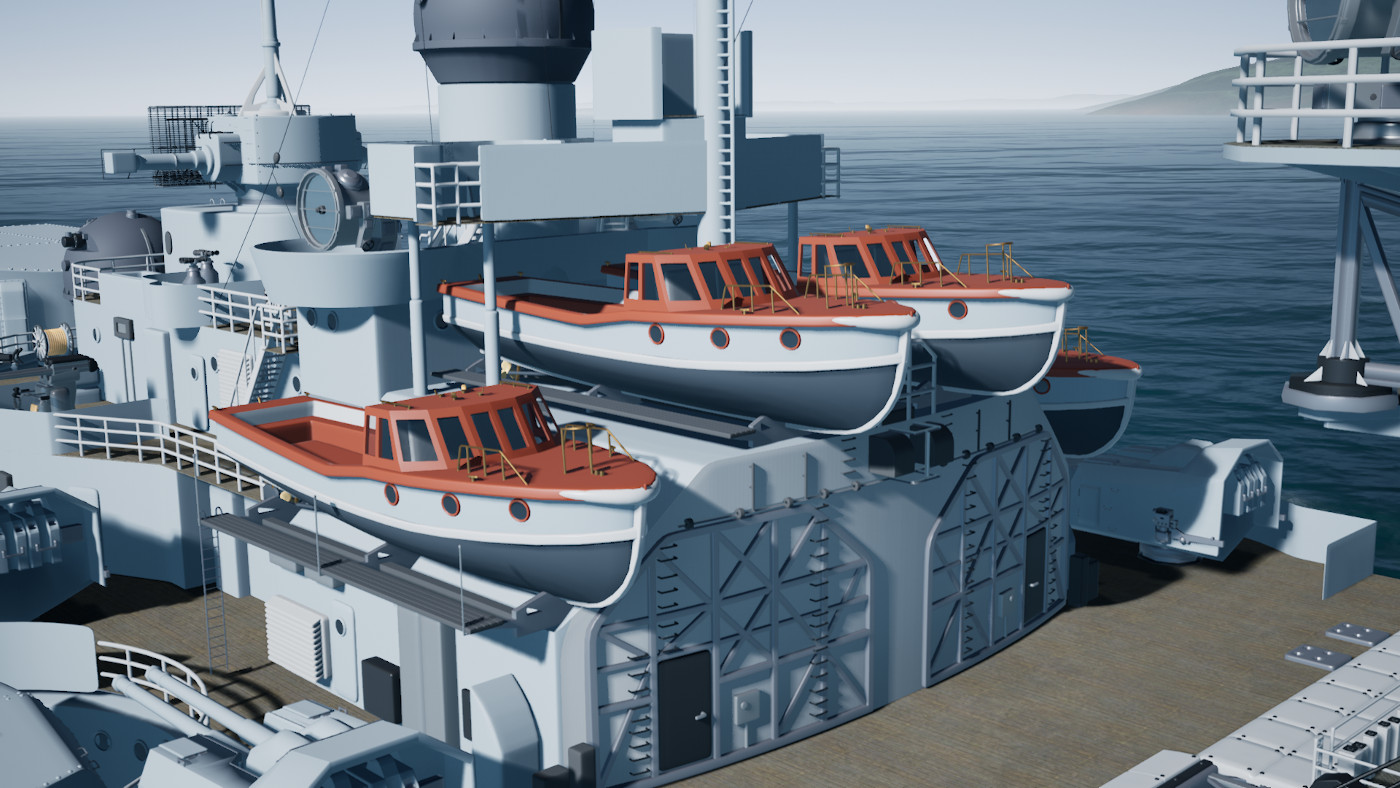 That's it, I'll go back to work now so you all can play with Bismarck with our next release in Summer 2020!
Some fantastic modeling there. The ships of the pre-missile era are so much more attractive than modern vessels, which often look like utilitarian office buildings afloat.
Yes definitely, my favorite era is the pre Radar big Gun era, cause it adds that tactical hide & seek factor.
Thanks, refining a 3D model is for me a bit like scale modelling, I could do that all the time. And at the end of the day you can take a relaxing walk on your work :)