So, did anyone else pick up the new Square Enix game Dungeon Encounters? It was announced only a few weeks ago during a Nintendo Direct, I think: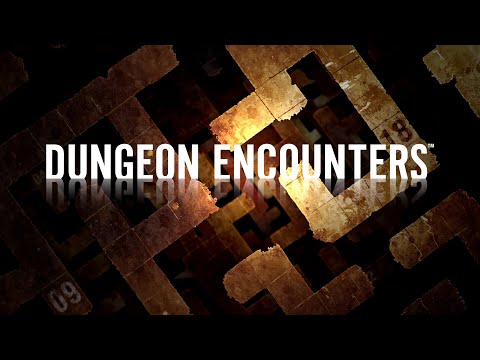 It's a super stripped down experience, but it has development pedigree as the first project led by Hiroyuki Ito who famously created the Active Time Battle system for Final Fantasy 4 and had director credits on that game, 6, 9 and 12.
Who knows what the politics are, but he managed to squeeze a tiny budget out of someone at SE for this game which exists almost entirely as an abstract grid-paper labyrinth where almost everything is represented as nothing more than numbered tiles. For example, a number 6 on a square is a healing fountain. You just have to start learning that stuff.
Combat is likewise extremely abstracted. The game uses a refinement of the ATB system with a number of interesting twists. Enemies and party members alike are just a tiny portrait next to a block of stats.
Obviously this isn't a game you're coming to for the presentation, luckily has a bunch of interesting ideas in the gameplay. First off, all enemies have both a pool of physical defense and a pool of magic defense. You have to bust through one, or both, before you can actually damage their HP. The characters in your party can each equip two different weapons, usually one physical and one magical.
Each battle has you trying to determine the most efficient way to break through defenses in order to damage the actual HP based on what the enemy stats are, and what your party has equipped. Enemies might also be flying, meaning regular physical weapons can't hit them, only bows or guns. Or they might have a reflect status making them immune to magic attacks.
Your equipment will dictate a lot of what you can do. You'll be choosing between physical weapons that do a fixed amount of damage to a single target, ones that do random damage, ones that hit only a single target, or ones that hit all enemies. The same spread of combinations exist for magic attacks as well. And you have a limit on what you can equip. Weapons, armor and accessories all have an equipment point value so you have to balance the strength of your armor against physical AND magical attacks with what your attacks will be.
The other really interesting choice is this game has no potions/antidotes/etc to allow you to heal or recover outside of combat. If you get poisoned you stay poisoned until you can find a #7 square on the map with a purification pool. Dead characters are revived by a #5 square. If a party member gets petrified you can't even move with them in your party! You have to kick them out, find the Gorgon Alter (#8) somewhere and plug in the coordinates of the space where you had to leave them to cure the condition. And since characters will stay put once you've kicked them out of the current party, to get them back you will have to travel all the way back to that exact square in order to add them back in!
I'm really only scratching the surface, here. Is anyone else playing?