Nice. Thats one of those, like Lazarus (as Serbia control the Balkans), that is brutal getting started. Once you get past the initial stages, which can take multiple restarts, its jot too bad. But any time you're a small country in the area of the Ottomans its a tough run thing.
Yep, very hard at the start. Then pretty easy going once your country + allies can beat up anyone in the area. And now back to very hard as the Ottomans have decided to invade. I was trying to tread carefully around them but didn't have a lot of options. Maybe I can tie them up in the mountains for awhile, but they are after my capital and losing that will probably also make me lose any desire to continue this run. To do the Persia achievement that involves taking all the Ottoman lands probably requires a start with someone like Ajam that can blob more quickly to keep up with the big green machine to the west.
Assuming I start a new game in the area, trying to be Zoroastrian would be fun. Does anyone know if that's only really possible with a custom nation? Otherwise, I presume you'd have to get Zoroastrian rebels that you let force convert you?
Ding ding ding!
If you want to go Zororastrian the best options are start as Gujurat or Ajam, send a missionary to the respective province, set maintenance to 0, and wait. And if possible lower autonomy even to increase unrest, and don't have unrest advisors or positive stability. Then keep your troops away. Being at war helps, it keeps your troops from accidentally marching in to the rebels.
To see in practice check this (its in the first few minutes)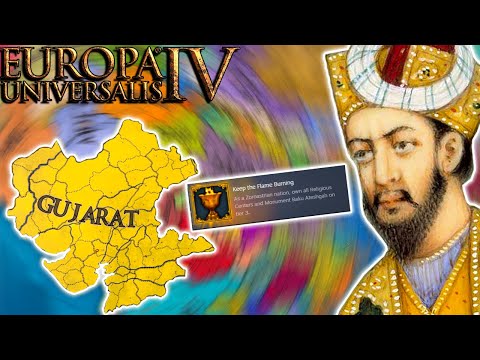 Thanks. It begins!
Also, wow Gujarat starts out rich. I didn't even realize there were world ports at start!
Running a Poland to Commonwealth game.
Ridiculously overpowered with the early mission to get Restoration of Union CB on Bohemia and Hungary. By 1461 I had Bohemia, Hungary and Lithuania as subjects and Moldavia as a March.
By 1505 I had dismantled the HRE. The new AI aggressiveness since the patch has been hilarious. The second I dismantled the HRE then France just started gobbling up central Europe.
But the game is still challenging… The Ottomans are still really tough, and the big powers are actually BIG.
My Gujarat game came to an end once the Ottomans destroyed my army and then everyone else piled on.
I think I am going to roll my Mughals game into a first try at a WC. It's 1601, I have all of India , Persia, about half of Indochina and all once I conquer Ayuthaya, vassals own most of Arabia, the steppe up to Mongolia, and I just vassalized OPM Muscovy which I can then feed all their stuff back, most of which is owned by mega Denmark.
Aside from a very tenacious Ottomans and colonial Spain, there isn't a whole lot of dominant powers. Ottomans have wrapped hard north and extend from Croatia to Alexandria, the entire Syrian trade node up to Uzbek territory. our border starts in the Caspian sea and goes all the way to Cairo. Fortunately just finished the first major war on them so the reality is that I should have broken them now. 400k dead ottomans in the first crack, minimal conquest but goal was break army (they had zero manpower and 80k troops post war), take max money and humiliate. Theory being by doing so now I can set up next conquests easier.
We'll see. But Mughals are a fun nation, and right now they are ridiculous and are the best set for a WC in any game I played. Their government form is ridiculous. Free culture acceptance for every culture in the game? All you need to do is conquer every province and they become accepted.
Nice, keep us updated!
I am somewhat considering a first go at a WC myself, Oirat seems to be a common choice these days. Was afraid of all the micro/repetition, but with all the QoL they have done over the years it seems like the easiest time to do one (mental health wise).
The Ottomans feel especially brutal in this patch. I can get about 100 years into a run with various nations trying for the Zoroastrian achievement before they just come and steamroll me.
I really like the big nerf to manpower.
It has really become a limited resource (for me at least) and I have to take big rests between wars. Also fascinating watching my subjects and other nations deal with the limitations.
Attrition was always important, but now I really have to keep an eye on it.
I need a nice big sale so I can grab the 5 major modules I'm missing.
Which ones? I may have some spare keys.
Pretty sure I'll have Dharma, and maybe some of the others. Know Ii won't have Leviathan or Emperor, but I'll check tomorrow.
I finally did it!
Had to go easy mode and start as the Timurids in order to finally stand up to the Ottoman steamroller. Actually converting to Zoroastrianism took a couple revolts to finally convert enough provinces for me to give in to their demands. Otherwise it was pretty smooth sailing as India stayed splintered enough to never put up too big of a challenge. Ottomans were willing to ally with me just prior to us becoming neighbors and we kept that alliance going the rest of the game so they never really threatened me.
And my newest achievement campaign was to go with Mongolia and get the achievement for forming Yuan and taking over all of China. I naively thought I could springboard that into Mongolian Empire and shoot for an achievement or two there. But not being familiar with the China mechanics it took until 1720 to get the Back in Control achievement and the Mongolian Empire stuff is way too much territory for me to manage in the next 100 years against the Ottomans and Russia.
Doing it again I'm sure I could take China much faster, but might be better to stay Mongolia and just push west at the start. Hordes can pretty much sustain permanent war.
Forming Yuan excludes you from the Mongolia Great Khan achievement. You would need to do that first, then form Yuan after.
I'm glad they've gotten better at making achievement conditions a bit clearer since EU4. I believe the games wording for that is "Starting as Mongolia…" which implies you wouldn't have to stay Mongolia. But you're right, if I look up the real conditions I have to complete the territory requirements as Mongolia. Oh well, not going to happen in the time I have left anyway.