I just bought Marvel Champions. I lost the first tutorial game. I think I like it so far!
Actually, question for smarter people than me - in Marvel Champions, is it better for solitaire play to play one hero or more than one?
I prefer playing two heroes personally. You can specialize decks a little bit more. Playing with a solo character generally requires a little more flexibility.
In games like that, it's always better to play more than one character. Player interaction is a fundamental part of those designs that's lost when people insist on single-handing it.
-Tom
So, new Fantasy Flight solo/co-op card game Marvel Champions? I shouldn't be excited, but dammit, I am.
Playthrough here: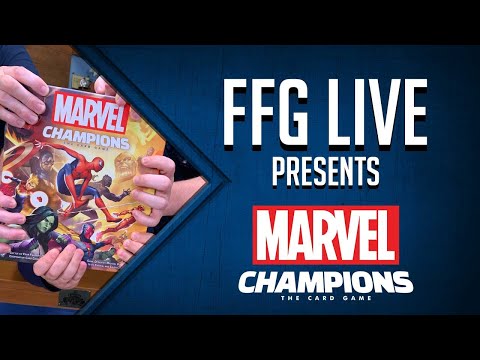 EDIT: There is a very preliminary version up on Tabletop Sim, if you wanna try it.
I decided to bust out my core set of Marvel Champions. The Legendary DXP app, which I enjoy a lot, made me want to play more card games, and I didn't have the energy to remember where I left off my Arkham Horror LCG campaign. I enjoy the AHLCG, but Marvel hits my table more often. It's easier to set up, and I can play a single-handed game in a half hour. Plus I really have to be in a good mood to put up with any horror-themed game, and I've been grumpy lately.
Anyway, I've played about 15 games over the past few days, first with Spidey and various Aspects vs all three villains on both Standard and Expert, and now I'm starting in on Black Panther runs. I lost my first couple games as Spider-Man because I was rusty, but I improved and managed a few satisfying wins (and a few close losses) on Expert. Panther won a game on Standard vs Rhino with the Hydra module, but when I bumped up Rhino to Expert, I got swarmed by scheming many-headed Hydras. Great fun.
I know some folks here don't care for MC, but I find it engaging. I'm often not sure which cards to burn and which to play. I love the alter-ego mechanic. I like seeing my whole deck every game. I like the art.
I'll probably spring for the Sinister Motives expansion. Apparently its campaign is better designed than the bare-bones campaign in Red Skull (which I don't own and probably won't buy). I'm also going to get Green Goblin, just cuz I want to fight him with Spidey.
Now do Marvel Champions with two heroes! These games are all about synergies, and you're depriving yourself of tons of them if you only play one character! With some practice I've gotten to where I can easily handle three characters, but that means I have to make the tough decision about which aspect to leave home. Leadership? No, I need all those allies. I can't go out with some Justice, or how else would I thwart the schemes. And it can't be Aggression, since those villains have so many frickin' hit points. But it also can't be Defense because who's going to soak up all the damage and heal everyone??? Gah.
Are you building your own decks, @Spock? If so, would you share some of them here? I'd love to try them. I'm just using the characters' starter decks with a few of the crappy basics swapped out.
-Tom
Yeah, you're right, @tomchick, I should play two heroes! I tried it once or twice when I first bought the game. In my latest MC craze, though, I've just been having so much fun playing single-handed that I've been putting off two-handed play. Plus "true solo" has been a great way to really learn hero decks. I practically have Spider-Man's hero cards memorized now, hehe. Anyway, yep, I'll try some two-handed and will report back. I hadn't even thought of trying it 3-handed, but that's a fun thought too.
As for deckbuilding, so far I've been doing what you describe – just tinkering with the premade decks, and swapping in different Aspects just to see what happens. I'm sure I'm making boneheaded decisions on what to include. Mostly I just ask myself: "Do I ever play this card? Am I happy when I see it?" Maybe tomorrow I'll post the Black Panther deck I'm using now. God knows I need help against those Rhino-Hydras.
I just now ordered Sinister Motives, and it will be here tomorrow, so I will soon have a larger card pool to build decks with. Can't wait to try it!
Sinister Motives is across the board excellent - two immensely strong and flexible heroes, a good campaign if you want it, and great villains, with one exception. The finale is considered extremely punishing, so fair warning. Still, all four of the other encounters are not just fantastic, but in completely different ways. I give the whole thing very high marks.
I haven't played Miles Morales or Ghost-Spider/Gwen Stacy yet, but I have been playing some of the new waves of heroes – Doctor Strange's versatility seems crazily powerful – and this raises a question that I'd be curious to hear your opinion. How do you feel Fantasy Flight is handling the power curve with the successive waves of new heroes like Miles and Ghost-Spider? Is there any danger that new heroes or scenarios might "obsolete" earlier heroes? I'm curious how well – or even whether – Fantasy Flight is handling this aspect of the game.
Which is exactly my concern with the power curve. I don't trust Fantasy Flight not to fuck up their own games, and they haven't let me down so far! I wonder if they're inadvertently phasing out certain heroes, cards, and decks with harder scenarios. Some of the starter decks are stupidly underpowered simply because they're constructed from objectively inferior cards than ones made available later in the business model. This is the reality of Fantasy Flight's games and I'm not far enough into Marvel Champions to know how much or if it's a factor. But I'm starting to have my concerns.
-Tom
So, let me respond to these concerns in turn.
Doc Strange is considered the single most powerful hero, and is wildly considered a design mistake. He's just too strong. Everyone else is at least on a spectrum of strength, but he is a tier apart.
That said, Miles is very strong, and Gwen only a bit behind. The thing is, and this leads into what you are worried about, I never feel like their strength is necessary to enjoy the game. Of the original box heroes, for example, I think they are all still solidly playable, and Captain Marvel is still top rate.
The vast majority of the villains are both reasonable to face with nearly any hero, but also both engaging and scalable - you can use plug in encounters to make them stronger, as you like. There are just a few of them that are considered over the top, most notably Ronan and the final boss of Sinister Motives.
On the whole, as someone who has experience with much of the content so far, I'd say balance is generally significantly better than most FFG stuff. Still some misses, still a couple of scenarios that are too much and heroes that go too far in either direction*, but I'm finding the game to be evolving nicely without being reduced to power creep.
My best evidence for this is twofold: I never find myself thinking "Eh, can't use Iron Man (or the like), he's out of date." or "Rhino isn't good for testing anymore, he's too weak now." Nope, the only thing that makes me want to switch it up is a desire for variety, which is how it should be!
*the only hero that is universally agreed to be too weak is Hulk.
By the way, Venom and Sandman from Sinister Motives are both really great for deck testing. Especially Venom, in my opinion, an absolute slugfest!
edit: one final word, if you want to use Strange, I'd simply play him against the top villains, potentially with some of the nastiest optional encounter sets. The game is definitely capable of scaling to meet his power level.
Sigh. Well, that explains a lot. :(
I've been playing him simply because someone gave me a Doctor Strange comic book after we saw the movie, and I read it, and liked it, and wondered, "Hey, what's a game I have with Doctor Strange?"
Man, that's really a bummer to hear.
Ha, I've been using him a lot and wondering what I was missing. Sure, it's nice to use that 13 damage superpower, and maybe he's hobbled by his default Aggression deck, but he did feel pretty limited. Maybe it's just because he doesn't necessarily ramp up as much as the other characters. But I'm not surprised to hear this.
I'm not a fan of the scaling system. I think it sacrifices too much, and changes the fundamental gameplay too much. For me personally, playing on "standard" is little more than a way to test the flow of a hero's deck. Until you implement the "expert" stuff, you're not seeing enough of the game's systems in play. But again, I haven't played too deeply into the content!
And now it sounds like this is another game that I have to scale myself. Which I've inadvertently been doing by playing Doctor Strange and Hulk!
-Tom
I don't want to put too fine a point on it for Hulk - in spite of his relative weakness, some folks on the marvel decks site have put forward some really strong decks for him! Are they strong as Strange? Hell no, but they make him very competitive for the vast amount of the game's content.
edit: yeah, scaling yourself is partly built in to the core of the gameplay with the modular encounter sets. I knew this wouldn't be something you enjoyed, and I completely understand why. For me, I enjoy dialing the difficulty in to levels I find enjoyable, and I like switching it up with the different encounters. Villain too tough? Maybe they're just doing a Bomb Scare today. Sandman not cutting it? What if he had the Infinity Gauntlet?
Part of my issue, which is by no means unique to Marvel Champions or Fantasy Flight, is that the majority of the modular components have no indicator of difficulty level, which makes this tuning really difficult – if not outright impossible – as you're learning the game. I know Fantasy Flight rated some of the encounter modules in some sets, but that's not terribly helpful since it only applies to a handful of the available options. So this one is a four? Great, but how is that helpful if most of them aren't even numbered? And how is it helpful when there are so many additional variables given the possible hero and villain combos, which apparently have their own entirely unlabeled difficulty levels?
But that's just an issue with modular designs, isn't it? On that front – too many options and too little guidance on their difficulty levels – I'd say Sentinels of the Multiverse is markedly worse than Marvel Champions. I feel it's a much stronger design, on the whole, but the folks at Handelabra basically opted out of any tuning whatsoever. Their numerical ratings are kind of a joke. So I do appreciate the limited attempt at guidance with Marvel Champions, even if I feel it's uneven and not terribly helpful for the casual players like me who would especially benefit.
Modular designs, man. What are you gonna do? :)
-Tom
Greater Than Games. Handelabra did the app version. :)
Have you played Sentinels Definitive Edition? They've done a 1-10 scale this time and I think it might actually be useful? I can't say for sure, haven't done enough with it to see.
@tomchick A BGG user maintains a sortable spreadsheet of thousands of plays of the game. It's at least somewhat useful in ascertaining win rates.
Of course, this database relies on users to log their plays honestly, but for the most part the data passes the sanity test. It does show Hulk with one of the lowest win rates, but even so his is 45%, which isn't terrible. The highest win rate is Capt America at 78%; Dr. Strange is in 5th place with 73%. The spreadsheet also breaks down wins by Aspect, and it rates modular encounters. Win rates on expert are lower, of course.
The spreadsheet also sorts by modular encounter. (To sort, click a top column, and choose either Z to A for highest-to-lowest, or A-to-Z for lowest to highest.) Apparently FFG had second thoughts about rating some of the encounters because the win rate varies significantly depending on which villain they were paired with.
I've actually contributed a couple of my plays to the database, but I've gotten lazy about it. Submission form here: Marvel Champions game logging
Also, I made an account at MarvelCDB so I could show you the deck I've been using as Black Panther against Rhino/Hydras. I won once with the pre-constructed Panther/Protection deck, on Standard. But when I bumped up to Expert, I lost, first using Protection, then Justice. For kicks, I tried a Leadership build – and I won! I was worried about healing, but I tossed in a couple First Aids and, of course, lots of allies to take hits. I had 41 cards, not 40; I guess I mis-counted. 40 is optimal, yes?
I'm not sure if there's a smart way to link the deck here. I've seen people list them directly on BGG. For now, here's a link:
https://marvelcdb.com/deck/view/347677?deck_name=Black%20Panther%20-%20Core%20-%20Leadership
It says access is blocked.
Ah, thanks. I think I see the problem. As a new user, I can't "publish" the deck until tomorrow. I'll take a screenshot instead.