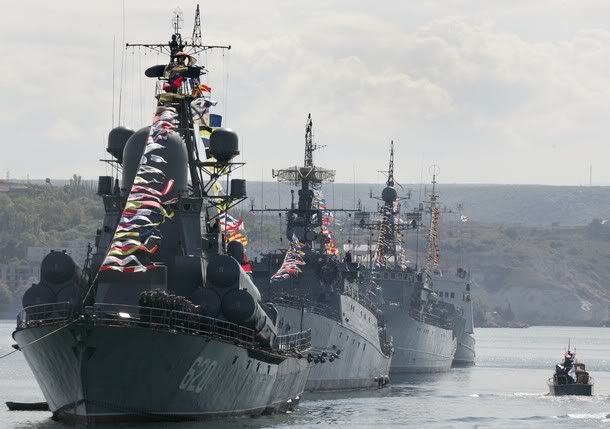 Image stolen from Information Dissemination
NATO exercises are scheduled to start in Georgia on May 6th and run through June 1st.
Here in my secret bunker, all is well.
Once again, I thought, "damn, another thread about politics in Atlanta?" and was disappointed.
Russia's leaders aren't exactly subtle, are they.
Looks like a typical Russian response to NATO exercises. This kind of thing happened all the time back during the Cold War.
That said, I'm not sure why NATO feels the need to have exercises in a non-NATO country. If we would stop acting like we are going to invite Georgia into the alliance I think the Russians would feel a lot less threatened.
Hopefully nobody does anything stupid while all the soldiers are in the neighborhood.
Agreed on all counts. Exercises in a non-signatory nation that happens to be a former Soviet republic are egregious saber-rattling, particularly when said nation is Georgia. Preventing this kind of testosterone cowboy insanity is one of the main reasons I voted for Obama. The current exercise was (I believe) planned while Bush was still in office, so he gets a pass from me this time, though I would have preferred that his administration cancel it.
The total distance from Tbilisi, Georgia to Moscow, Russia is 1,022 miles.
The total distance from Washington, DC to Cuba is 1,211 miles.
For reference, the total distance from Moscow, Russia to Atlanta, GA is 5,389 miles.
As long as we don't build any missile silos in Georgia it should be ok!
Can you get a Cuban pressed sandwich and plantains in Georgia? I think not!
Just who is participating in this NATO exercise? And what sort of exercise is it?
The exercise is a fictional UN-supported, NATO-led rapid deployment scenario, and includes several members of the Partnership for Peace program. Apparently the exercise is focused on evacuation and other non-combat scenarios with some 1300 soldiers. Some participants are Armenia, Azerbaijan, Moldavia, Kazakhstan and Serbia. So the reason it takes place in a non-NATO country is because it's not a NATO exercise, as such.
Gunfire along the border between the natives - Hopefully the monitors will be able to smash heads.
UN units are poorly trained, officer-heavy, and have very little experience cooperating. Basically: Paper Tigers. They aren't going to be doing any smashing of heads.
UN units are the quality that the country that offers them trains them to be.
Of course, considering that the UNOMIG mission (or is there a new mission with monitors) has 145 uniformed personnel from these countries: Albania, Austria, Bangladesh, Croatia, Czech Republic, Denmark, Egypt, France, Germany, Ghana, Greece, Hungary, Indonesia, Jordan, Lithuania, Moldova, Mongolia, Nigeria, Pakistan, Poland, Republic of Korea, Romania, Russian Federation, Sweden, Switzerland, Turkey, Ukraine, United Kingdom, United States, Uruguay and Yemen, I can imagine that they're not really equipped or organized well enough to be very effective.
Smashing Heads = Reminding each side, politely, how well the last war went. The Ossetians may have won the battle but they suffered serious infanstructure damage. Corruption has bled off a great deal of the money that was intended for rebuilding the territory.
I assume the monitors they were supposed to meet with yesterday were UN affiliated but they might have been OSCE or EU.
ITAR-TASS reported more gunfire last night but the meeting between the two sides apparently went reasonably well. They established a hotline to resolve disputes.