It isn't the AGE engine. It is a development of the engine used in Avalon Digital's Wars Across the World.
I took a gander at their site and there are a LOT of games in development with this engine, some on pretty interesting (to me) topics. Not sure I want to take the plunge right now though, with the new Decisive Campaigns game releasing Thursday.
The game is being released today in a few hours. What is Thanksgiving after all without German East Africa?
Released!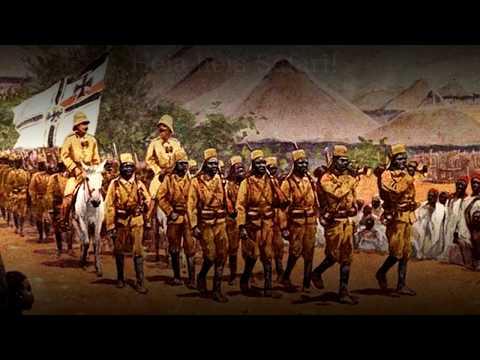 Wie oft sind wir vorbeigekommen Schmale einheimische Wanderwege!
Jenkins' Ear alert!
This understudied theater of The Great War looks eminently suited to the SGS methodology.
Some good reads on the topic if you're interested in digging deeper:
Have just been messing around with this, and it's pretty interesting. They have several tutorial videos explaining the UI, movement, economics, combat etc, which were helpful, but still a lot to digest. I really like the map, and the art in general.
Every time I glance at a thread with this game's title in it, I read it as "Hentai Safari." Ahem.
I would be shocked if that game didn't already exist. Probably Hentai Safari: 8 is trending on Steam right now.
Pretty interesting overview of the campaign scenario by the designer here.
Also known as the game's documentation. :) They have one of those for each scenario.
-Tom
So, if someone were completely new to the series, would Winter War (on sale currently at 50% off) be an equally good place to start exploring things? Or would you recommend a different game in the series?
The Winter War title was the first and they really didn't fully evoke the concepts that they're trying in the "system." But each title is very uniquely fitted to the campaign being covered, and the documentation is superb. I'd just pick whatever suits your fancy and go for it.
Thanks, much helpful that is.
It looks like Afrika Korps and Halls of Montezuma are also 50% off. I'm a think for a bit, then pounce like snow leopard before the sale ends.
I would probably start with Afrika Korps, move on to Winter War and then do Halls of Montezuma, although Halls of Montezuma is my personal favorite.
That's the kind of specific recommendation that leads to sales!!
Living in Mexico as we do, I've had my eye on this. I should probably take advantage of the sale.
By chance, those are the 3 I picked up earlier in the day. Thanks. :)
I had no idea you lived in Mexico!
It will be 3 years in January. We love it here!
I watched the five tutorial vides on movement and stacking, then jumped in with both feet to the 3-turn scenario in Afrika Korps. It was all going so well until Rommel decided to mess with things. Ending up losing a marginal defeat. I'm going to need to look at the rulebook, I only had a basic idea of what I was doing.