So I'm currently being subjected to "onboarding" after being hired some 3 months ago at a Fortune 50 company as a mid-level software developer.
For context, this is a company that had literally hired single digits of bootcamp-taught developers prior to this fall, when they decided to open up hiring to qualified non-CS grads. College grads have for years been hired into a year-long onboarding program where they don't even get their "real job" until they've been here a year and done a bunch of training and some rotations with various teams.
So they're trying to figure out how best to onboard people with more experience with professional development but who aren't being hired into senior or lead roles. Fair enough.
The joke is twofold: One, this is my second (whee) job in the field having been working as a full-stack dev at a startup for the last year. Two, I've been here for a few months already so I've been pretty well and truly onboarded as far as best practices and tech stack for my team and all that.
I lied: The joke is threefold. Three: The stuff they're having us spend two weeks in a classroom on is not fucking rocket surgery, for fuck's sake. Agile methodology and ceremonies. Basic TDD concepts. Monitoring vs logging. CI/CD pipelines. Basic REST API concepts (contracts, naming conventions, etc). What a "product owner" is.
This all would have been fine if I were fresh out the bootcamp. Interesting, even. Not so much today. Okay, fine. Whatever, it's two weeks, they're paying me for it, whatever.
HO HO HO, DEAR READER. It's so much dumber than that!
So we get broken up into "pods" of 5-6 people with a coach, we write tickets and start tracking them, yadda yadda. But then we are informed that we will be mob-developing everything.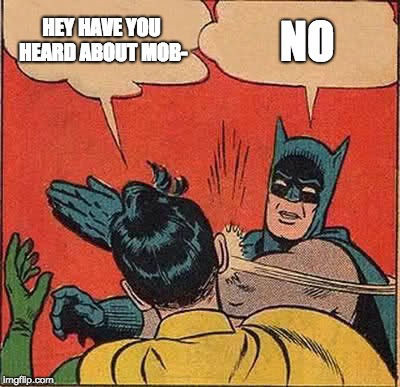 Remember every bad primary-education class ever, where 75% of the kids in the room didn't give a single fuck about anything, and so every time the teacher asked a question there were crickets for 10-20 seconds before either you or some other nerd raised their hand to answer the fucking obvious question at hand, or miraculously one of the other people in the class tentatively ventured forth with "um, x is less than y?" Yeah, do that but in a professional context for two fucking weeks.
HO HO- fuck nope it gets worse. Get dressed down for talking too much and dominating conversations because the rest of the geniuses out there are apparently not fucking functional adults and can't raise their hand or offer an opinion on anything. Apparently we're supposed to let that 10-20 second purgatory extend until someone else finally has a neuron fire a single feeble spark that briefly punches through the suffocating darkness that is crushing all happiness and joy out of our very spirits because we're all fucking stuck here until the end of the week.
I may be a little frustrated at this very moment.