I'm going through a bit of a MAN 2 phase at the moment and TBS games are fun to break down and discuss, so let's give this a shot and see how it goes. I'll be giving you my thought process as I play, as well as making comparisons between this and the original Massive Assault (two iterations exist between, but this was the first sequel worth buying IMO).
I was quite a hardcore player of the original, taking part in tournaments, uploading solutions to every scenario and the AI on every map as both sides for others to learn from. I love the mathematical purity of the game, everything (almost) is on the board and it's up to you to out think the other guy. In the original I was a really good player, but not in the top tier, I sat just a step below the best player such as Tiger and Pitor. I also liked to drop some real clangers now and then.
For the basis of this AAR I have issued a public challenge, I dislike some of the settings other people choose, especially turn based time limits. The game is effectively PBEM but through a central server, so limiting how long someone gets to think within the configurable X days to play limit seems pointless.
The only hidden element in this game is which countries each player controls, you don't know until they reveal them, which occurs at the end of each turn. Everything else is on the board.

We're going to game on a medium sized map called Eden, this will give a good taste for land war, while adding the joy of island battles. I was tempted by an old favourite, Noble Rust (three islands) but the new maps tend to have a lot more terrain which I prefer as it forces a deeper level of thinking than the tank, bot and transport strategies of the original. I don't like maps which put in high densities of medium and huge countries, those turn into a tedious grind.
Allied density controls how many territories you start with, in the original this was unconfigurable but was the equivalent of medium so you had to keep the back door covered in all your countries in case you found a nasty surprise waiting there. With low there's less surprises, but this also means you're less likely to be screwed by the opening set-up. I think I like this change, it keeps the games tighter. Not sure what that means exactly. It certainly reduces a negative factor of the original where if you had no allies adjacent to one another you were at a sizeable disadvantage to your opponent.
The unit set can be standard or extended, this controls whether the sides get their special units or whether both sides have all the units. I've gone for standard, but the most popular choice seems to be extended. I like the asymmetric units, they compliment the asymmetric maps.
The game has two ranking systems. Back when I was playing the original I got tried of the experience (first shot) system as it did little more than tell people how many games you'd played. A bad player who played a lot would outrank a good player who didn't. Someone with some actual coding talent whipped up an implementation of Glicko which hooked into the player database, you had a Glicko rank per side per map (the player to go first back then had a relatively big advantage) which was averaged out to form your overall score, and it was that I cared about. Glicko is now, in some form, part of the game and is shown in the second shot. Alas, my score is not what it could be because when I stopped player a couple of years ago I had several active games time out and lose me points.
Anyway, we have a challenger, VOLK's stats are as follows: Name, Country, Wins, Rank, Score, Place
You'll see a big difference between the first shot (experience based) and second (skill based). You start at 1500 skill, so this would suggest VOLK plays a lot but loses to pretty low-end players so I should be able to take him. We'll see whether experience or skill wins through here.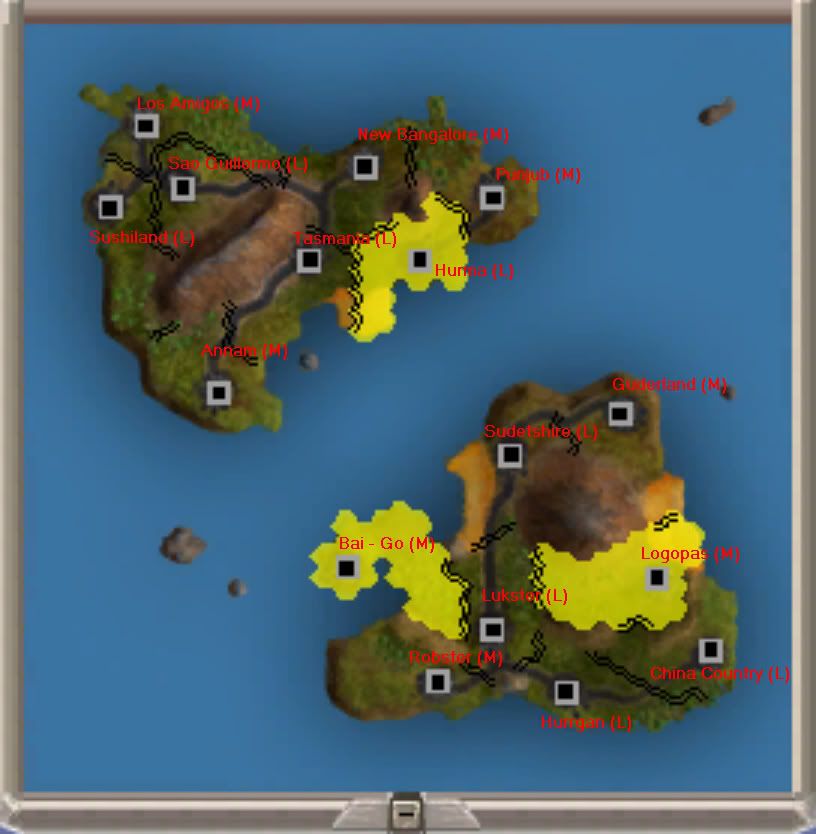 Throughout the AAR I'll reference countries, so this map will help identify what I'm talking about. The yellow countries are my secret allies. L = Low and M = Medium, this represents income, guerilla force etc.

Low on the left and medium on the right. I'm sure you can figure out what a huge would be.
A secret army is how much money you get to spend on the initial force in a country if it's yours and you reveal it. A guerilla force is how much money your enemy gets to spend on the country if you invade it, guerillas always fire on the turn they appear so you need to invade with enough to survive the initial barrage or else you'll hand the country to your opponent.
The only item missing here is Indemnity which is the same as Secret Army except it's the money a player gets if they successfully take over another player's secret ally. Doing so on a game of this scale usually indicates you've won.
As I'm the Phantom League (space commies) I'll be deploying first. In the original game you would declare two secret allies and the F.N.U. (the West) would then declare two but would do so blind. This led to situations where the PL player would find themselves sitting at the rear of an FNU country with the FNU force on the wrong side to resist a turn-one invasion. Game over. Now both sides declare one country and the FNU player sees what the PL declared before they deploy.
As you can see from the map my weakest country is also stranded by itself and odds are it's outnumbered. I'll be holding this declaration until last so I can better determine what to do and see how VOLK has set-up.