With all the excitement around some upcoming fantasy turn-based strategy games, I had the little idea that there might be some interest in a MOM forum game.
Note that that's not a multiplayer game, a feature which Master of Magic, unfortunately, never had, but rather a round-robin game run by one leader at a time, starting with me, in which others play advisory and leadership roles.
My basic idea is that the current leader would be commander-in-chief, and control the units and armies (which will keep turns moving), while others could be ministers of specific roles, as well as general advisers. The leader would play for twenty-five turns at a time, then submit a status update to the forum at which point we can discuss our civilization's priorities, goals, and what future courses of action to take.
I don't intend it to be an overly serious affair. Basically it's meant to be a fun, vaguely participatory way to share one of the greats of strategy gaming.
The manual is here.
And the spellbook is here.
We are using this patch.
This is the latest turn save, for anyone interested. Overwrites slot 8, and uses the patch above.
WIZARD:
Qtartuthre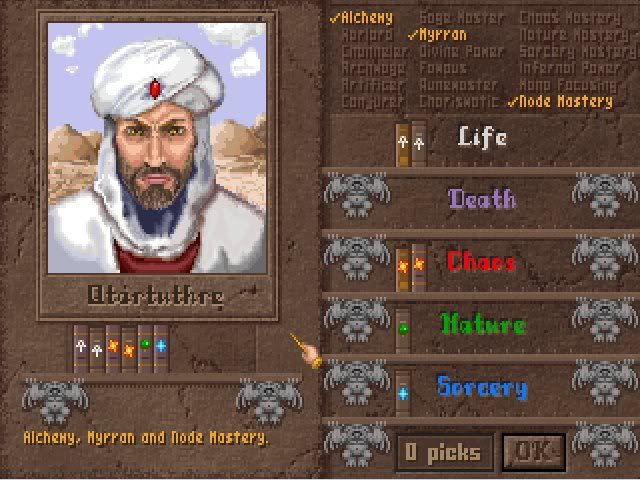 Spell Books:
Life - 2
Chaos - 2
Sorcery - 1
Nature - 1
Special Abilities:
Myrran
Places a wizard on Myrror at the beginning of the game (otherwise, all wizards start on Arcanus). Myrran wizards may choose to begin the game with one of the special races (beastmen, dark elves, draconians, dwarves or trolls) that are otherwise not available to starting wizards. Because Myrror is a world richer in magic than Arcanus, the Myrran wizard's enchanted fortress generates double the magic power of an equivalent fortress on Arcanus.
Alchemy
Allows a wizard to directly interconvert gold and magic power. The conversion process normally results in a loss of 50% of the starting material (you convert 100 gold into 50 mana). With Alchemy, you can convert on a straight one-for-one basis.
Node Mastery
doubles the amount of magic power that a wizard draws from nodes of all types.
Race: Trolls
Cost triple normal amount; Regeneration: 4 hit points; +2 melee strength bonus; +3 resistance bonus; Halberdiers negate First Strike; Have 4 figures per unit
First Magician: AaronSofaer
Determines research priorities and manages persistent enchantments, as well as magic management
First Warrior: idrisz
Advises army makeup
First Minister: ineffablebob
Advises city development
First Champion: CLWheeljack
Advises hero priorities and recruitment
First speaker is unclaimed for now.
Round-robin queue:
Giaddon
BleedTheFreak
CLWheeljack
ineffablebob
Staff Sargent
X (new players go here)
Giaddon (restart loop)