It's 125nm as the crow flies! I flew around 150nm in all. Did you mistake Austria for Australia?
I did! I'm still misreading it. My brain must be turning to mush.
Haha, easy mistake to make!
Just touched down and it was a lovely flight. I flew at around FL140 which only gave me 1-2,000ft clearance over the Alps in places. Very picturesque.
I always wanted to try landing at Madeira LPMA. Did it in the CRJ-700 today. That approach is quite something. You really only have a visual approach available for runway 05, so unless you know it well it will probably surprise you, as it did me. I was above the runway so quickly I had no choice but to go around (to the right of course, as going left you'd hit terrain very quickly). After circling around I knew which visual cues to look for and the actual landing was smooth, though definitely tense.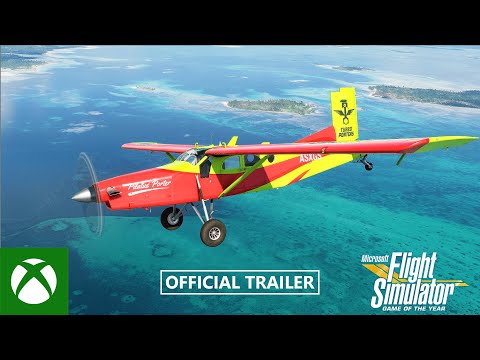 Game of the Year Edition.
Coming November 18! We are thrilled to announce the Microsoft Flight Simulator Game of the Year Edition as a "thank you" to our fans who have made the sim such a phenomenon. The Game of the Year Edition is enhanced with 5 brand new aircraft and 8 additional handcrafted airports along with new missions, tutorials, features, photogrammetry cities, and includes all of the content updates released since launch in 2020.
This update is FREE to all existing Microsoft Flight Simulator players. The sky is calling!
Available November 18 for Xbox Series X|S and PC with Xbox Game Pass, and on the Microsoft Store, Windows, and Steam.
Hell yes. This is the first update with more aircraft from them, right?
Well, the Top Gun pack was supposed to come out by now I think if the movie hadn't been delayed.
Is SU6 out yet?
Here's more details on the aircraft and airports and stuff being added. Sounds great!
Those new Discovery Flights all sound awesome. Mecca? Singapore? Yes please!
I haven't tried any Discovery Flights yet. They're just shorter Bush Trips, right?
Basically you start in the air in easy mode near some cool stuff.
I'm going to enjoy crashing these over and over. Miramar's flight path to the ocean goes right over my work. And those hot dog pilots know exactly when you're trying to have a meeting or talk on the phone.
I didn't know Space Force had a base already! :)
Really missed an opportunity not making its designation KERB
It is just me or are other people having trouble getting the latest update? I keep getting disconnected after a minute or two of downloading.
Edit: Confirmed, not just me:
I read your post too late and already let Windows update the game yesterday. But I'll wait for another update before firing it back up.
I need to continue my Andes Bush Trip, and possibly start a new journey somewhere in the world. One possibility was starting near @krayzkrok's place in Darwin, and following the railroad to Perth. I've never been to Australia, but I have a relative in Perth who was always asking us to visit him during the 80s, so Perth always fascinated me as this one big town that's completely far away from the rest of civilization in Australia.
Hilariously, when the update was complete it told me that "Windows 11 has finished installing". (I'm still on W10)
Heh, I just finally got the update downloaded and running and yep: