I've been digging into this genre thanks to a recent Groupees bundle. I think we could use a catch-all thread just like the beat 'em up thread. It's an obscure enough genre on PC that it's probably best to group the games together. Other consoles are welcome too. I'll just be focused on PC.
I meant to start this after I tried a few more games, but the gateway games thread got ahead of me. So let's start at the beginning: trying to get into this genre. I've posted before that the biggest roadblock to me was that I didn't see the point. I don't normally care about high scores and personal achievement for their own sake. Yet I've certainly appreciated those concepts in the context of other games I already enjoy. I've been trying to figure out how to get to there from here. This is a bit of a blog. I'm curious to hear everyone else's story.
Let me use this as a starting point. I think my early experience with the genre was NES side scrollers (which I've concluded I hate, so let's forget them for now) and a few freeware games like Cho Ren Sha 68k. I also had the general sentiment one gets from looking at a picture or video of a bullet hell game, ignorantly thinking it's incomprehensible, and dismissing it. I think that happens with a lot of genres – hence the gateway games thread.
CRS68K is instructive because I don't believe it has continues. I was very attracted to the SNES/arcade era look and feel of the game. I wanted to blow things up and see all the bosses. I was a credit feeder before I was aware of that concept. Eventually I reached a point where I had to practice if I wanted to get further in the game. My laziness outweighed my desire. The end.
Jamestown came along a few years later. It was charming and I quickly saw all the levels. Everyone knows the danger with credit feeding is that shooters start to feel disposable, right? It's simple to beat them that way, and then there's no reason to go back. This almost happened to me in Jamestown. But I remember something made me go back to it. I don't know what it was. Suddenly I wanted to see what difficulty level I could 1CC the game. I wanted to understand the scoring system just for the hell of it, and get all the achivements. I had to memorize the levels and the boss patterns.
I went back to CRS68K later and had the same problems as before. Why didn't that desire immediately carry over to other shooters? I'm not sure. I wonder if it's as simple as the structure of the learning curve. In arcade shooters without continues, you have to master execution on one level enough to give yourself a few lives on the next level. But you'll probably come out of there fully equipped to do well on future stages. That's opposed to traditional difficulty curves, where you beat the game on normal, then hard, then impossible. I was never big on arcades. Maybe I'm not used to that kind of curve. Perhaps I like to see what I'm working toward first.
A little later I did some credit feeding through a few Cave shooters in MAME. They were pretty, but I still wasn't hooked.
Fast forward to the Groupees douijin (indie) bundle, with Kamui, eXceed 2nd and 3rd, and Hellsinker. I've played the first three. They each offer unlimited continues, so I got to see them all first. Like Cho Ren Sha 68k, I loved Kamui for its attractive old-school sprites. It's so charming that I think I'd recommend that one if Jamestown didn't exist, though it has horizontal scrolling. eXceed 2nd is an Ikaruga style game that seemed very boring and blah. eXceed 3rd was the first time where I started to appreciate the Japanese flying girls art design and the simple joy of dodging massive, vibrant bullet patterns. It really does look and feel nice to play now. So I'm past that roadblock at least.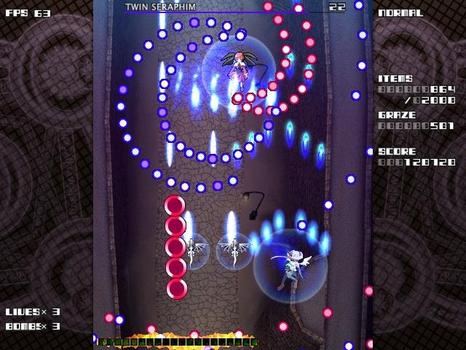 I figured the final frontier was high scores and higher difficulty. I looked up the system in eXceed 3rd and discovered the scoring was all about hitting enemies at point blank range. There are even Steam community guide videos that show you exactly where to move your ship. That seemed kind of odd. What was the point? I thought it might be limited to this game. Then I read what is supposedly a common motto in the shooter genre: "Memorize, don't dodge." I was dumbfounded. I actually enjoyed the dodging! Was the only hope of advancement going to be rote memorization??
After I went through the stages of grief, I decided that whether that's true or not, I'd be willing to do it for the right game. eXceed 3rd wasn't it. I've since downloaded the demo to Crimzon Clover. The visuals and sound are extremely attractive. Even the high score list is strangely compelling. I can see my score, the stage I made it to, my highest multiplier, and the date. It's not a stupid list of initials and score, where I'm stuck in between a silly group of default names. Furthermore, the continues must be purchased by collecting in-game items. Those items persist, which seems like the perfect carrot to keep me moving forward without simply setting the number of continues on the configuration screen, or dooming me to perfection on stage 1. The score system is simple and invites "natural" memorization: I can float through the level puzzling over ways to keep my rate and multiplier up. I literally only have 15 minutes with the game and I'm already thinking about spending $38 for a full copy. Just look at this stage 2 boss (on hard difficulty). I can't wait to get there!
This feels a lot like that moment of truth with Jamestown. Maybe I just need great presentation and a decent metagame to drive me forward. Maybe I was never going to get anywhere with Cho Ren Sha 68k and feeding credits into Cave ROMs. It also helps that I dove into shmups.system11.org recently to pick up the community vibe. Once I get past an initial appreciation curve, Internet forums usually reinforce my enjoyment.
I'll be putting my feelers out while I spend more time with the Crimzon Clover demo. I still need to try Hellsinker, and I downloaded the freeware Blue Wish Resurrection Plus, which seems comprehensive and fairly attractive. In the meantime, I'm curious to hear the path other people are on with this genre.