I laugh every loop when the wheel flies off.
This game is tough! I love how my safety rating increase goes down each race I do, haha. I'm pushing hard out there and still not close to the lead lap times. I've had some good wheel to wheel action, but I think I've lost every one of them because I'm being so cautious.
This is why I don't play multiplayer games anymore. I can't stop thinking about iRacing even though I'm terrible at it. My real cars have many unfinished projects that weren't touched this weekend.
At least I talked myself out of picking my chess habit back up this weekend.
My first race win was decided by a couple of feet. I was 5 seconds ahead of the second place driver and passed a lapped car pretty cleanly, but then I started getting really nervous about him and drove a couple slow laps. I took the last corner pretty poorly so I was almost in tears at turn 1 on the last lap. I was very sorry for laughing at your misfortune @Mr_Bismarck and I thought surely karma was going to get me. It almost did.
He kept coming hard so I let him pass me on the final turn of the last lap. Thank goodness the start/finish line is so close at Jefferson Circuit. I won by a tenth of a second.
Congratulations!
Be careful though. That winning feeling is real addictive.
Automobilista 2 added another free update today which includes the Corvette C3 FREEDOM BARGE.
The "R" version of the Corvette joins the Porsche RSR 3.0 1974 to give the GT Classics class two different cars that are designed specifically to kill you.
Second win in three races! It helps that I had just been driving the Vee quite a bit when they changed courses to Oran Park for the week. When I saw everyone spinning out in the pit lane, I knew I had a good chance to catch people out before they learned the course.
It was probably the best wheel-to-wheel racing I've had on the service. I got a good start and jumped from 3rd to 2nd behind the leader. He held at a second ahead of me for a while. Then I found where I could make up a lot of time braking into T1. I caught up to him and he gave me plenty of room. Of course, once I had passed him, I lost some of my concentration and aggression, so he caught back up to me with a few laps to go. Those Vees get a surprising amount of tow so I had to force him to the outside each time down the straight. He was extremely cautious and patient. White flag, half a lap to go, and third place finally caught up and bumped into him. I took my foot off the gas a bit and cruised across the finish. We had a nice brief chat afterwards. Should I make a new friend?
Assetto Corsa and Assetto Corsa Competizione and all of the attendant DLC are on sale again on Steam.
The Ultimate edition of Assetto Corsa is ~$8 which is a bananas good deal.
So I love top-down racers, as y'all know (Bloody Rally Show FOREVER), so when I saw this thing, with its 90s vibes, at a cheap price point, I just HAD to try it.
So far, so fun! The controls take a bit of getting used to and there are NO ways to change your options like video or controls, but it's very fun with a gamepad and the races I've done so far have been a great time.
It only took me a couple races to realize that tanking was the way to win in iRacing. It took me a couple weeks to fully appreciate the real goal: to steadily become a better driver at the sim, as indicated by the iRating. Unlike online chess, the matchmaking can't guarantee you a ~50% win rate. But it still demonstrates your progress.
I'm certainly most intrigued by improving my racecraft. I can turn some decent laps, but I sometimes overcook it badly during a race. I can chase people down and occasionally force them into a mistake, but I'm really weak at anticipating a pass from behind. I can see all the fun stuff to learn, which is the best place to be in a skilled hobby.
Well I know a friendly league you could join that already has a couple QT3'ers in it…
If it's an iRacing league, then sure! Otherwise I don't think I have time to split between two games at the moment.
I dipped my toes into a D class race with a giant 30+ car field and almost got DQ'd from all the incidents, haha. I think I'd better stay in Rookie until I'm comfortable and effective driving near 1 other car.
Tim
The league I'm in, cmsracing.com, runs iracing on Tuesdays and Wednesday nights. The Tuesdays are Formula Vee and new driver friendly. The Weds alternates GTE/GT3 multiclass and GT4, and is more serious.
Its a great group of drivers, and the admins do not permit the shenanigans you see on the public races. Members often host practice sessions pre-race which is a great time to get advice, setups, or even just more used to racing close. I've not been running on Tues/Weds due to work, but I am active on the teams they field for the endurances races.
Regarding anticipating a pass from behind: in the rookie classes its really hard because the guy behind you probably does not know what they are doing either! It gets better as you drive with more experienced drivers.
At the most basic level, you drive your line and let the other guy make the pass. Learn to read the other drivers body language.
Later you learn the corners where there is a good place to be overtaken, those that are ok, and those that are bad. Then you learn to use your body language to signal your willingness (or denial) of the pass. Yes, that means if its a low % corner I'll block the overtaking line even if its a fast class or driver (because I've been wrecked too often when I do not)
Good luck!
Thanks, I'll check it out.
I did some googling and learned there are some ways to drive defensively to lower my risk, including driving more aggressively since the guy behind me expects me to be pushing as hard as he is. I definitely struggle with that under pressure because I'm usually in too high of a split so I'm not prepared to take as hard of a line under pressure.
It's good to hear choosing a defensive line is a good approach because that's what I planned to do. If I lose speed and get passed cleanly at the next corner, that's fine with me. To be clear though, these aren't pass attempts. Just someone running into the back of me when I slow up a bit to make a turn.
Of course some people say you shouldn't have to drive like that, but I'm happy to do what's necessary to improve our odds. This 13th week stuff is fantastic because it's a new race every 30 minutes!
How is the iRacing going, Tim?
The Sports Car Club of America held their "Run Offs" (national finals) this weekend at Indianapolis. It runs for three days and features a lot of different cars and car classes, but I always try to catch the Formula Vees, Spec Racer Fords and especially Spec Miata, which usually puts about 50 cars on the track for the final.
One of the mid-pack competitors this year streamed his onboard view to youtube and it makes for an interesting glimpse of what the middle of a real life Mazda pack racing looks like.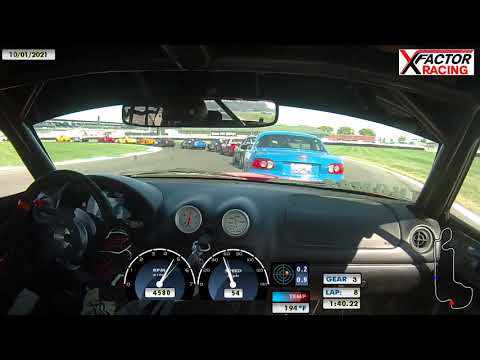 That's more terrifying than the online races. They are really banging into each other.
iRacing has slowed a bit. The 13th week MX5 action every day took a lot out of me. Then I switched back to the Vee, which is more interesting but also more tricky and mentally exhausting in a way. So I end up getting a little less hooked. MX5 is at Summit this week so I'll switch back for that one.
I missed the Runoffs but saw the Miata race for the NASA championships. Some of the external shots were pretty funny. Just a swarm of cars, 3-5 wide at times.
Finished 2nd in an iRacing 12hr enduro at Sebring. GT3 and GT4 multiclass.
Unlike this year's Petit Le Mans enduro where our poor GT3 car got mauled by P2 drivers repeatedly, we had great luck at Sebring running a GT4 Cayman. I got minor clipped in Sunset by a GT3 but otherwise it was pretty clean. Not sure why the difference.
I really enjoy iRacings version of the GT4 Cayman. Limited aero, limited power, but mid-engine so fun to rotate. Just had a ball driving it.
Just following up on this.
Yes, switching to a defensive line when you do not trust the yahoo behind you is fine. I try to watch the guy's driving in my mirrors to make decisions on how trustworthy I think the other driver is. In multiclass I'll sometimes go to a defensive line to prevent a higher class divebomb.
Anyone hitting you from behind is wrong of course. But in non-league iracing there is no steward so you both suffer. That said it shows you may have an opportunity to improve your braking. In most cars braking should be applied sharply (how sharply depends on the car), and then brake pressure released gradually during braking zone as you get to turn. Load cell pedals really help this… .
I'm pretty sure I suck at this at real track events too, and I wouldn't be surprised if it affects heat and pad wear!
I've gotten better at it, and maybe iRacing can help improve it.
I do think iRacing will help with coolness under pressure with someone behind me. I have the same issue IRL where I'm in the zone while chasing a friend down at the track, then once I'm in the lead, my mind is all over the place.