Republicans aim to call Obama's 'bluff' on spending cuts
It's Fox News, so it required some sifting to dig out any real information.
Near as I can tell, it's another negotiating tactic, like the pie-in-the-sky Paul Ryan budget, which required moonbeams and unicorns to work. They're drafting a bill which will allow "more leeway" in specifying what gets cut, while keeping the amount cut in the Sequester. No details on what "more leeway" means, so it's not anything resembling full discretion, and thus not meaningfully different than the present plan, just a way to pretend that the specific cuts were the Democrat's idea.
That said, I'm having trouble seeing how changing the targets would help even if they were allowing full discretion. Firstly, it's not discretionary spending that's the problem.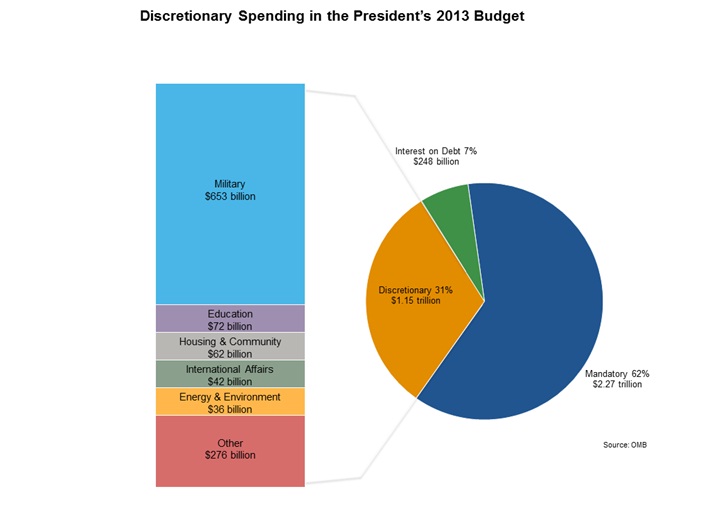 The first rule of optimization is "measure." If a process is taking up only 31% of your clock cycles, you can't save more than 31%. You always examine the biggest chunk first.
Second, within discretionary, by far the biggest chunk is military. If you cut discretionary spending by $85 billion, the Pentagon has to be most of it. Most of the economic effects being discussed are about the results of the non military cuts on the economy, like cutting back the FAA and fewer air traffic controllers.
We could cut that much, if we'd just stop fighting wars overseas.

The above is through 2010 - this spreadsheet breaks out the war spending for this year, which is $88.5 billion.