Debuts Wed, Feb. 26th, CBS.
The first thing that strikes you in the cast photo is Cliff Robinson, former NBA player.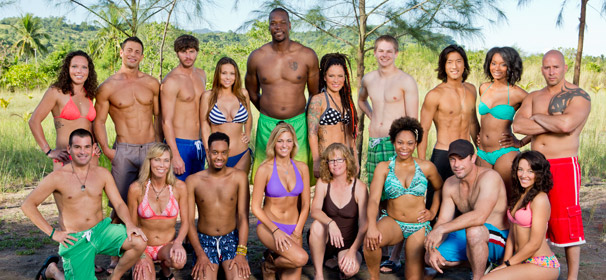 Even if you aren't a constant Fantasy Basketballer like me, I think you'll be able to pick him out. Watching the cast video, yeah, brains probably have brains (though intelligence and wisdom are still different stats), muskels got muskels, but beauty seems a…well…bit bereft of brains. We'll see. Three tribes (duh!). Dunno if Redemption is back in play - hopefully not. Anyway, kind of early to post this, but ads are starting to come on for it, so what the heck…
Beauty. Well, you can tell what drives ratings to some extent. Brains vs brawn vs Underhanded Back-Stabbing Ruthless Cutthroats just doesn't alliterate all that well, but might make for a better game. ;-)
Hmmmm, not a gray hair out there. Definitely a younger crew.