From the LittleIndieGames thread, way back in June of 2014:
The game, Tharsis, comes out on Steam January 12th. I saw a Let's Play by Quill18 on youtube and I have to say it looks like an interesting lightweight game.
The concept is that you control a crew of astronauts stuck on a spaceship heading to Mars - however, a disaster strikes, and suddenly your goal becomes to survive and keep the ship patched together so you can make it to Mars. I only watched a bit, so excuse any minor inaccuracies, but it appears the game is divided into a fixed number of turns; each turn one or more incidents happen to the ship, and you control the crew members as you try to patch things up as best you can so your flight can continue. Each crew member has a different strength, so determining who to send can be important. The mechanic of the game is die rolling (an incident has a score, of say, 20, which means you have to devote 20 pips off of dice to 'fix' it). Certain die rolls can have negative consequences, depending on the incident. There's also hit points, stress levels, and hunger to worry about for your crew members. So it seems that you have to balance a bunch of competing needs/desires, all the while trying to fix up your ship so you don't explode and die.
It's turn based, so on each turn you send crew members (one by one) to an incident site, roll dice and determine what to do with them. Each ship module has a different function/bonus ability - so for instance if there's an incident in the sick bay, the module's bonus may be to heal everyone's HP to max - and you spend die pips to power these up also. In addition you can spend a die roll on an individual ability (each crewmember has a different one of course) or you can put a die into "research" which build up points with which you can purchase bonus event cards. So there's always four or so actions you can take with each die.
The game plays out pretty quickly (the entire game is only something like 8 turns long) and even a winning game will only take like 30 to 45 minutes.
Here's a pic of an incident screen showing a bit of the look and feel: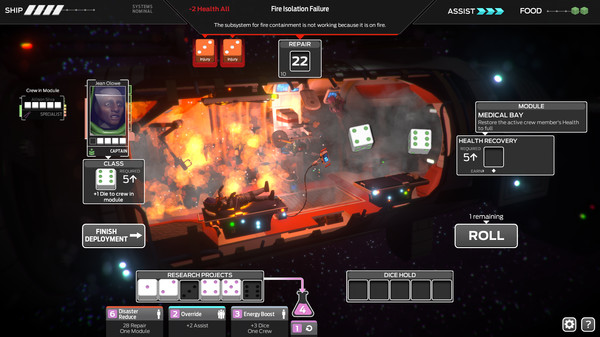 Here's an outside shot of the ship, which is where you start each turn: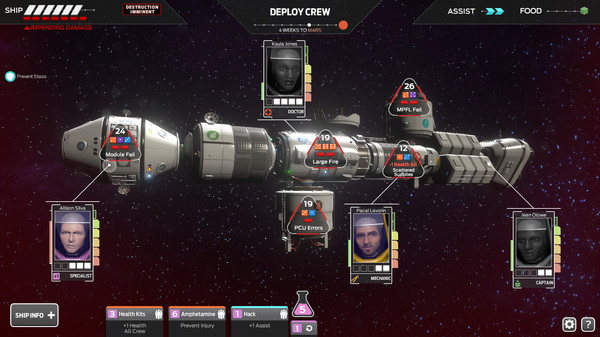 There's also a storyline which is communicated through ship logs and some images. I'd guess this plays out the same every time, so I doubt it will add a lot after you've played through a few times.
The indicated sale price was $14.99, and with the traditional 10% off for a new game launch that'll make it more like $13.50.