Hi there. I did a few videos that I thought I might share with you all. Racoons ate some of our fish, including my favorite one in early June, so I decided I wanted to buy some new ones to replace the little guy. So this first video is the first batch of fish. There are 2 butterfly Koi, one Shubunkin, and 4 fantail calicos. Unfortunately, we lost 2 of the Fantails and the Shubunkin from… thunderstorms! Everyone was doing great, and then we got a massive storm, and suddenly 2 were dead. The water quality is pristine so it was confusing, and the fish had no signs of disease. After a lot of guessing the importer just off-handedly mentioned that thunderstorms aren't good after the fish are shipped because their immune systems and vitality are weak from cross-country shipping. As it happened we had 2 thunderstorms. Each morning after the thunderstorm is when we found the fish dead. Thankfully, the 2 butterfly koi are doing well, and the remaining 2 calico fantails are as well. They're already grown a decent amount which is amazing and heartening.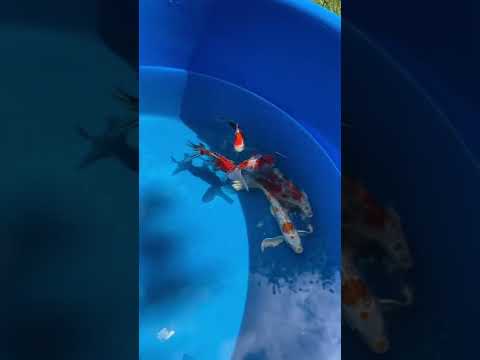 We got refunds for the deceased, and I ordered some more this week. The larger one here is a Female Kikusui because I really want fish fry so I can challenge my genetics background when tons of fry are born and hopefully have unique patterning and coloring. The platinum one with the very long slender fins is one of my favorite fish types of all time, the Gin Rin Doitsu Platinum Ogon Butterfly Koi. It's an expensive fish, but I got a good price on such a small one. The other is similar and will be very sparkly in the sun. You know, the thing that's most important to hobbyist's. Sparkles! That is a Gin Rin Gin Shiro Bekko. You can see a few black specs on his back.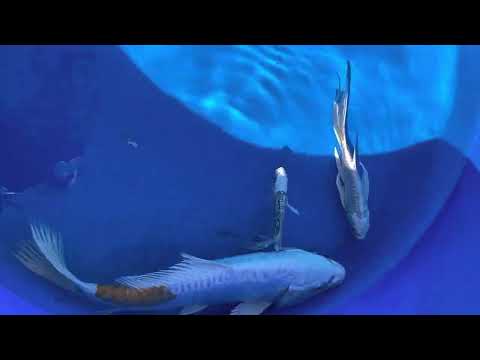 And now for the pond and a bit of the frop bog/canal. Now, things don't look good because it's under construction. We have a submersible pump to cirulate water because my external unit is disconnected while I wait for a replacement UV light. So all that tubing will be gone. The bubblers are to help the new fish with extra oxygenation, and that will go away when I feel confident they'll survive. The middle area with the plastic? That's to kill the weeds and plants growing as I'm redoing that entire area to make it ornamental zone. I know it's kinda dorky sounding, but it's going to be a fairy zone. When filled out it should be really fun to see the frogs hopping around little fairy houses, bridges, paths and fairies. With lots of led mushrooms, dragonflies, and other items I've been collecting it should look just as cool at night as it does during the day. I plan to do all their feedings there to help condition them to spend time in the village. :)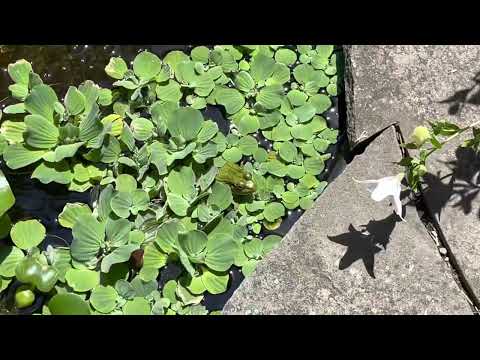 So things will look a lot better in 2 weeks, if the company ever sends my RMA'd parts back to me.
Should also mention that the winter frog bog is not shown in this video.