I couldn't agree more. I finally got into Warhammer 2 in the last month or so and have completed a High Elf Tyrion (Eataine) campaign and just got done with a Lizardman Mazdamundi (Hexoatl) campaign, both in Eye of Vortex. Even within those races, the various factions have some real neat mechanics that I would want to try, like Yvresse led by Eltharion with their unique Mistwalker units and the Dungeon of Athel Tamarha, where you can imprison legendary lords.
So I was wondering, from the folks who have been playing this a bunch (@KristiGaines, @ShivaX, @Scotch_Lufkin, @Tortilla, @wisefool, @MisterMourning, @Richard_Holt, @BloodyBattleBrain, @ooomalley, @Dan_Theman) now that we have a pretty much final list of Warhammer 2 factions/legendary lords, whose been your favorite?
This goes out to everyone really and its pretty flexible in terms of why you enjoy who you've enjoyed - whether its the unit roster, unique mechanics, starting location, or even just the voice overs lol. I'm kind of intrigued by Settra just because of the memes and his over the top dialogue. I would also add that it can be either Mortal Empires or Eye of the Vortex campaigns.
I found this video which looks at a poll done on Reddit about peoples most played or favorite factions and legendary lords. The Google doc here presents all the data covered in the video. The poll/video/document are about the Mortal Empires campaign.
To quickly summarize, the Top 5 favorite campaigns in Mortal Empires (according to the Reddit poll) are
Empire
Skaven
High Elves
Lizardmen
Dwarves
If you go to the faction's individual slide, there is a breakdown of what legendary lord gets selected the most. For Empire, over half the campaigns are Karl Franz. For Skaven, its even more lopsided towards Ikit Claw (nearly 70% of campaigns!). High Elves has a bit more even distribution with Tyrion, Imrik and Eltharion being the top three.
Here is the video.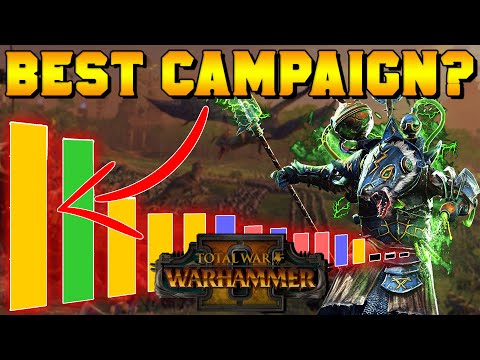 And here is the Google document.