Stolen truck driven into a crowded pedestrian street. Two dead and 8 injured confirmed so far.
4 hours, no posts, I guess we really reached that "who gives a shit, business as usual" stage.
Or the "I only check new threads once in a while, and didn't see this one at all" stage.
Also, not a lot of info on that one yet. No information on possible motivation, perpetrator(s), etc, so what's to comment on? Very little but the fact that I'm sad to see it happen. Again.
I was going to suggest a catch-all post for them. This method appears to be here to stay.
Easy to execute, impact outsized to damage, requires no special equipment or planning that could tip off authorities, literally anyone can do it.
So what will be the thread title? Euro Truck Murderator 2?
Bonus black humor points for "Euro truck."
Well, when (not if) it reaches the US, we can always change the thread title.
Here in Brazil such an attack would probably go unnoticed, because every day there's a truck losing control and killing a lot of people, mostly due to negligence regarding maintenance, or traffic laws, or just common sense.
I guess this is one of those attacks that only work as terror attacks in civilized countries.
So that excludes the US then.
Try leaving here in Brazil for a while, and you'll go back to seeing the US as a civilized country. ;)
Well, we didn't have a thread for the St. Petersburg bombing at all. Maybe we should have? I do feel badly for the victims.
If it makes you feel better, police have released a preliminary photo of the truck driver.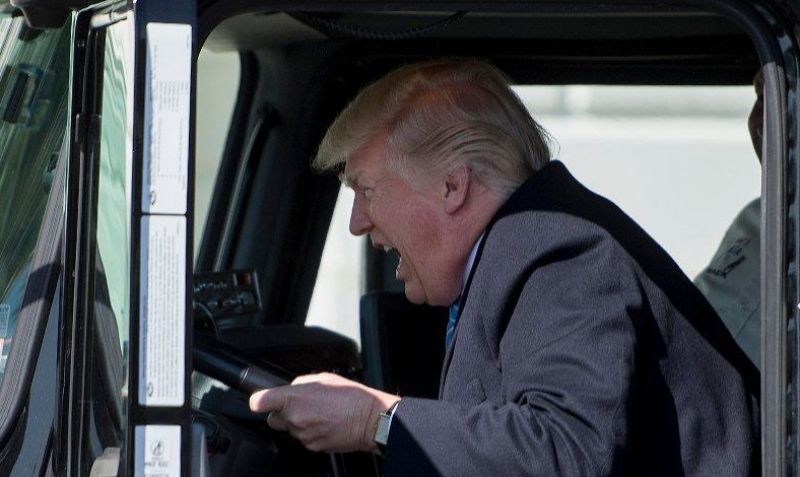 I mean I guess the question is, do we have anything to base the idea that this wasn't some random failure, accident, or standard act of violence on? Other than the recent similar attacks in France and Germany?
We don't know the motivation, but witness accounts seem to indicate it was intentional instead of some freak accident. But who knows? We may get to know the truth soon enough. Or never.
From wikipedia, and not under a section titled "We'll never know"
May 2014 Ürümqi attack, China (ramming + throwing bombs off the vehicle)
2014 Jerusalem tractor attack, Israel (ramming people + bus)
2014 Saint-Jean-sur-Richelieu ramming attack, Canada (ramming)
October 2014 Jerusalem vehicular attack, Israel (ramming people)
November 2014 Jerusalem vehicular attack, Israel (ramming + hitting with a metal crowbar)
2014 Alon Shvut stabbing attack, West Bank (failed ramming + stabbing)
2014 Dijon attack, France (ramming people)
2014 Nantes attack, France (ramming people)
2015 Saint-Quentin-Fallavier attack, France (ramming gas cylinders + decapitating)
2016 Nice attack, France (ramming people + gunfire)
2016 Ohio State University attack, United States (ramming + stabbing)
2016 Berlin attack, Germany (ramming people)
2017 Jerusalem truck attack, Israel (ramming people)
2017 Westminster attack, United Kingdom (ramming + stabbing)
2017 Antwerp attack, Belgium (failed ramming)
2017 Stockholm attack, Sweden (ramming people)
You missed what my implication then. Not that there wasn't a recent trend where this was an attack vector of choice, but more why do we suspect this specific incident. Eyewitness accounts certainly could start pushing us that direction, for sure.
The police report there are 4 dead, 15 injured after the attack. One person has been apprehended who may have connections with the event, but police are not sharing more information about that.
Media report that the truck was reported stolen earlier in the day; the attack at least seems deliberate. Other than that, I try to stay away from the speculations running around on social media until we have confirmation from official channels.
Getting out of the city center was a pain, with all public transportation shut down. I spent several hours walking and in traffic, getting myself and colleagues home from our office a few blocks from the street in question. There was a huge amount of people out on the streets, and the general mood seemed calm and collected among the people I saw while walking.
Jesus, Trump's like Christopher Walken in The Dead Zone. Combined with Martin Sheen in The Dead Zone.
I'll never understand security theater. I just don't think like a bureaucrat I guess.
I believe the reasoning was to make it harder for the suspect to leave, and to reduce the risk of casualties if it had been a coordinated set of attacks. Honestly, I'm not sure I would've wanted to get on a crowded subway right after anyway.