Now I gotta think it's some minor miracle I got one on launch day last year.
Off topic but every day it seems crazier to me that I've had my PS5 since one day after launch.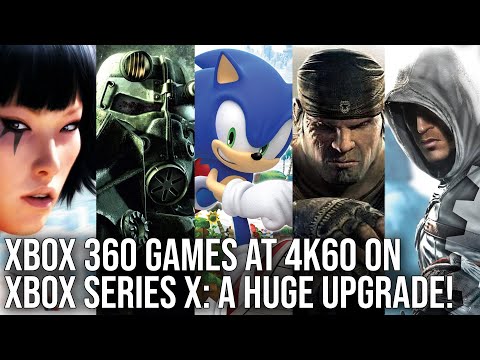 Man, the first 14 minutes are Sonic games. I can't believe Sega made such incredibly demanding games for 360 and PS3 that neither machine could handle. But they play smoothly now on Series S and Series X. Fascinating stuff.
I'll have to wishlist those Sonic games, they look very cool.
Wow those Sonic games look amazing. I'm sure the slowdowns scared me away back then but now at 60FPS they look great. I didn't intend on watching the entire video but I did. It's just incredible the boost these games are getting. As PC gamers we've had a lot of these luxuries through more powerful systems and mods but for simplicity just popping in a disk and being able to play a top notch version of these games is pretty cool.
Apparently in 3-7 days I'll have a series X
The bundle on the right was apparently in stock (at a major UK retailer) briefly this morning. I don't normally mind bundles too much but Jesus Christ that's some price gouging, especially because most people will just get FH via Game Pass.
Wow. That's the kind of bundle I would have expected from GAME.
Still no Series X here and still no rush to get one. But I truly thought a year ago that they would be plentiful by now. Component shortages are no joke clearly.
I'm in no rush to get one for myself, but I was hoping to get one for Xmas for my nieces along with a Game Pass sub. May end up having to get an S instead.
The Xbox Series S is fine, AND you can turn it into a nice gaming laptop!
The SSD is just as fast as the Series X version… and most ppl dont notice the diff between hd and 4k.
Actually that xscreen is pricey at 300… just get a nice lcd for under 200… 27 inch… you're set!
I agree 1080p-ish is basically fine. The XSS has two main problems.
a) On back-compat titles it often uses the XboneS version, which is not only lower-res but lower framerate too. So you're playing 800p games at 30fps in 2022. This could be fixed in software, though.
b) The 500GB storage is really tight with Game Pass.
This is me. At least on my lower end 4K tv I prob couldn't tell you of a game was really 4K or just HD. Along with the game pass the Series S is the bomb.
Edit: like @stusser just said. The drive is small but I had a 1TB external lying around so use it too.
Based on the picture, that looks like the Elite series 2 controller, so it might not be that much above normal retail price (it's normally around $180, not sure about UK prices). You're right about including a Game Pass game feeling superfluous though.
yeah the 500 gb is small. i would only buy if you are 'light' console gamer. if you mainly pc game, its good to have as a backup.
Having a Series X… I'd say i play it about half as much as my gaming pc… and for me thats a HUGE difference than before.
Gamepass is also a very good deal… they really do have a good lineup of games.
I think you really ought to wait to find a Series X.
I've probably played <15 hours of my XSX since I bought it back in February. I just don't like console games. I'm getting poor value out of Game Pass, but it's so cheap with the conversion that I don't feel bad about it.
It's worse than that as it's only 364Gb usable, the rest is for the OS. It's a really dumb oversight for a digital console.
That said I've found it fine with the overpriced SSD card, and the small size has proved handy to bring to my parents house when they are babysitting my brother's kids to let the nephew who is super into cars play Forza Horizon.
Sure, if you pay $220 for the extra storage that fixes the issue. But then you're paying over the XSX MSRP.
FWIW I have ~15 game pass games loaded on my XSS, granted none are COD. Not saying "500GB should be enough for anyone" but I don't find it as painful or constrained as it's made out to be.
One thing to keep in mind, is that games on the Series S take up less disk space than the series X.