Three times so far this month, on the 1st, 14th, and 23rd per searching slickdeals.net.
Ah yes, my loathing of the Windows 10 Games system.
Game Pass has a slightly different selection on Xbox, and is definitely less faff.
It has a 4K Blu-Ray player
It makes a pretty decent set top box for media apps
Quick resume is nice
I just like playing some games on the sofa in front of a big TV and I don't like running an HDMI cable from my PC.
Basically that last one, it's a better couch gaming experience. I'm primarily a PC gamer but the XSX with GP is pretty neat.
If I start to get serious about an XSX, are there any retailers selling anything other than bundles as stock allows?
Hot stock is the way.
Put the app on your phone and turn on notifications.
Walmart is your best bet. Subscribe to Matt Swider and Lord of Restocks on Twitter. They generally give a couple hours warning before a drop, which are usually at noon PST. You may need to subscribe for a one month subscription to Walmart +. Using time.is, refresh the store page at the exact second that the time ticks over, and click add to cart. You'll be in a queue, but most likely you'll be able to get one after a short wait
It's time for your monthly Games with Gold announcements, here's what is coming in February -
And for @Rock8man, the video version: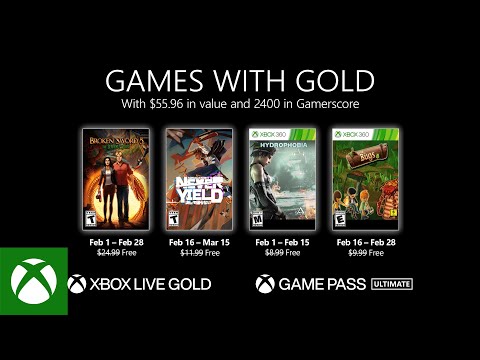 I don't know much about these games, though I think I did play maybe the first or second Broken Sword a long time ago. Hopefully they're pretty good!
Nice.
I almost bought Aerial_Knight's Never Yield a number of times on Epic Game Store, but I held off.
Oh games with gold, good, I thought that was the game pass list for the whole month and was perturbed that I wasn't getting my $4.19 in value.
Did you feel a great disturbance in the Force? ;-)
Does anyone here use the "streaming their games from a local Xbox to their PC" thing over their network? I gather it works through the Xbox app somehow. Does it work all right?
What with Cyberpunk 2077 getting a fresh coat of paint and some fixes I thought I might finally sink my teeth into that one–picked it up last summer on sale for 10 bucks. Not something I want to necessarily play on the living room TV all the time.
It works ok over my wifi network if nobody else is streaming or taking up bandwidth. Played an hour or so a FC6 a while back in my office from my series X with very few issues, but I was the only one in the house.
Thanks, awesome.
Due to some weirdness either in my particular Windows installation* or an issue on Microsoft's end with the Xbox app having a problem with a "special character" in my Windows User account name, I'll have to sign into a dummy account on my machine first, but oh well.
*which seems unlikely because if that were the case I couldn't just create a dummy account with no special character and have it work fine with the app's cloud and streaming functionalities–said account depends on the same installation of Windows after all. And my "bad" account name still lets me play Xcloud games through Edge.
Oh BTW have you noticed that the resolution isn't native on your PC monitor when you've streamed? I wonder if it's limited to 1080p.
Not native. I think all of MS's streaming (cloud & Xbox-to-PC) is 720p. Pretty sure it wouldn't do very well at 1440p.
I think they do up to 1080p. I'm not sure though.
I have a 1080p monitor, and it looks and works fine for me.
Yeah, once they upgraded the data centers to Series X hardware it's been capable of 1080p and 60fps.
Yeah, previously Xcloud was running on Xbones. shudder
That entire generation was so underpowered.
The XboneS base PS4 were pretty weak, yeah, but the refreshes fixed all that.
The PS4 Pro was a perfectly fine 1080p gaming box, although it had aspirations for more.
And of course the XboneX was a powerhouse for the time-- its GPU is substantially faster than the XSS. Totally competent for 1440p, although it still couldn't do 4k without tricks. But of course neither can the XSX in lots of titles.
The entire generation had weak CPUs, but games don't much care about that.