It also looks naff.
@Amiral_Crapaud will kick the motherlovin' crap outa this one.
Game trailers almost universally suck ass, but that one is a classic of the form.
Finally got to sit down this morning, the last day of the Demo Fest, and try a few out.
Sail Forth, a cute little sailing game. It's kind of (intentionally) goofy in style, but has nice sailing and wind mechanics. A million options to remap controls, cameras, etc.

Ynglet, a super weird little puzzle-platformer(?), I guess? Weird, hand-drawn art, neat mechanics, especially the checkpoint system. It was pretty cool.

Boxville a pretty basic point-and-click adventure thing. Snooze. Neat art, though.

Grotto Not at all sure what to make of this. Maybe an adventure/puzzle game? W at I do know is that it is first-person-perspective, it's really dark, and they don't allow you to invert the y-axis. Fumbled around for a bit and exited out. Ain't got time for that nonsense.
I only got time to try the Tinykin demo, which was awesome. Let me buy it right now. It's charming, it's gameplay elements like the platforming jumping feel so perfect.
I was wondering when the Xbox summer sale would come, and Pure Xbox helpfully put together a list of the sale times in previous few years, concluding that it will probably happen near the end of July.
If they were smart, they'd try to beat the Steam Summer Sale (and maybe incorporate some of the Meta-Games like Steam used to into MS rewards too).
alternatively, start the Thursday before the 4th of July weekend so people can play the games they buy!
Here are the July GwG selections -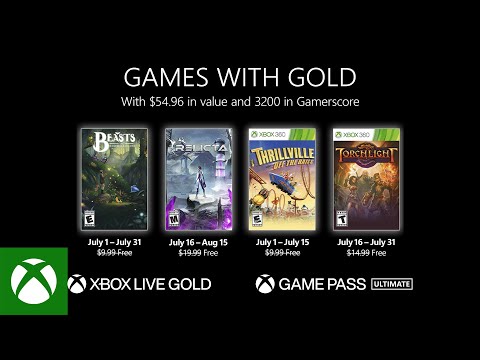 Pretty sure Torchlight is a repeat but it's a good game if you don't already have it. Not sure about the others.
yeah, this is the third or fourth month in a row with a repeat.
Beasts looks like something I would've bought, so I'm happy. Seems to be very short.
This seems like a neat idea. I never use the share button.
This custom Mjolnir Series X cracks me up -
I really hope you can detach the handle portion. :)
I hope you can't. And that the bottom of the Series X has some kind of superglue so it can't be lifted.
LOL that would be fantastic
Why is Mjolnir cracked though?
I assume we'll find out when the movie comes out.
Didn't Cate Blanchett like squish it or something? One of you jokers must have seen the movies.
edit: thingy
My Series X theme is called X Calibre and it's a Series X with a sword stuck through it like that. It's a winner.
It was snuck over in endgame and is now back in the OG timeline.
No more 360 games added to Games with Gold after October.

Because they will reach the limit? What?