The obscure reference was the gif I posted, not the original quote. Sorry for the confusion.
Then I will grant you that!
What's that gif from? It looks vaguely familiar.
Old DLC is on sale on Steam, btw.
That's a character from CSI:NY. For a while, her nickname in the series was Montana because she came from there. ;)
What the hell?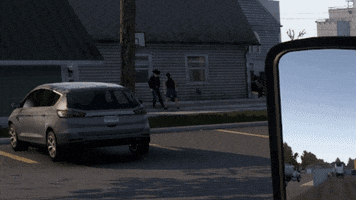 No, he never actually shoots. I watched for five minutes. Because of course I did.
Spotted in Glasgow, MT.
Hahaha! I feel like I have to go find this now. :)
If you can solve the mystery of why Clint Black is in Glasgow, MT doing whatever that is with a kid trying to shoot hoops, that would be great.
Hmmm. Could it be someone other than Clint Black?
The other man in black is over in Westworld, and the other man in black didn't wear a hat. So, confirmed. He's waiting for a ride after being dumped on the highway of course. Whole song about it and everything.
Hmmm. I'm not making any of the connections here, sorry.
The "other guy" is the guy Clint Black is playing basketball with? And this other guy was in Westworld and got dumped by the side of the rode in the show? And Clint Black wrote a song about it?
Sorry, probably only clear if your thoughts are scattershot like mine. Calelari calls him Clint Black because he does indeed appear to have the same style of outfit. But in Westworld (TV Show), there is a character named 'The Man in Black' who also looks just like this. And then of course there is Johnny Cash, who has long been known as The Man in Black as well. But he doesn't wear a black cowboy hat as the other two do. Thus, it "must" be Clint Black.
Clint Black has a song called 'Nothing but the taillights' where he is dumped by his girl off the side of a highway, and says he'll be searching for her pick-up truck in every parking lot as soon as he makes it back to town. Looping back to the screenshot above where he apparently did.
(I know you probably didn't really want an explanation…)
An excellent and informative one, nevertheless!
Actually, this is great, and I was hoping for an explanation. Thanks. :)
It doesn't really explain the basketball thing, though, right? I mean, why is he playing basketball?
Could it be Tim McGraw? He wore a black cowboy hat and seems to have some connection with basketball…
Tim McGraw and basketball article.
And in related news, the Hauloween Event is up and live through November 6.
And apparently Texas is going to be released in 2022. :)
That's really good news, isn't it. I mean, Texas will be a huge state, I think I heard 29 cities?
So much exploring to do for the next couple of months. Fun times.
ATS 1.46 out.
Ownable cisterns, US20 Idaho to Montana, driveshaft torque, some interior tweaks, and some stuff for photo mode and landmarks.
Seems ETS2 got an update as well, but no patch notes that I can find, but it ain't 1.46.
And 1,46 out for ETS2 now. Basically same feature set, some updates to Iberia.
God bless'em, they're introducing a state I'd want to drive a rig around in even less than Texas.