Few movies, or games, have so captured the imagination of certain people* as Star Wars. Through 3 films, and countless games, there has been a consistent magic in the series. One of my earliest memories of beating a game came from, over the course of weeks, going to a friends house and working our way through Super Return of the Jedi. Years later, when my family finally upgraded the Apple ][e to a proper PC (this was about 1999 or so), one of the first things I bought was a Microsoft Sidewinder Precision Pro joystick and a handful of flight games. Among my haul, paid for with a summers worth of lawnmowing money, was X-Wing vs. TIE Fighter Balance of Power.
Now, obviously, TIE Fighter is not the same game as XvT, but is is often heralded as one of the greatest narrative based space combat games ever made.
I intend to put that to the test.
How will this game compare to the glorious memories of taking out a Star Destroyer with a B-wing, of dogfighting TIE Fighters in an asteroid field with the nimble yet weak A-wing, of having to emergency dump all stored power to shields while diverting all power to the engines to make a quick escape from death? TIE Fighter is not just competing against its reputation, it is competing against sepia toned memories of a game that probably never was what I recall. It is competing against the memory I have of taking the game disk and putting it in my car stereo, skipping the 33 minutes of static that was track 1, and listening to the awesome John Williams score as I drove around**.
In fact the music is one of the most interesting things to me here, as it was so critical to nailing the feel of the game to me. Yet XvT just used a CD soundtrack, which many purists decry. I never got that, but then again I missed the original games. So let me see the MIDI music in action, what is it about this supposed dynamic soundtrack that was lost with the CD versions? How can it possibly compare to the high fidelity recordings of actual instruments that followed me around town?
So let us take off, and enjoy the adventure together. Let us seek out those rebels who do not acknowledge the greatness of the game empire, and see if their cause is a worthy one. The Emperor has declared this task for us, now let us go fulfill it.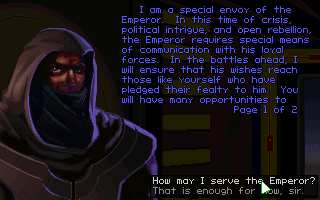 Available from GOG. I will be using the 1995 CD version, not the 1998 version. The reason being I want to see the dynamic music in action. However please feel free to use either version you wish. I may, depending on how good the music player is, switch to the 1998 version myself eventually.
*Yes, I mean me, but admit it is probably you too
**I actually still have the music from the disk burned to my hard drive. Sometimes you just need to listen to the Imperial March.