I think Rainbow Six Extraction is the big release this week. It's coming to Game Pass so not a big wallet threat for those with Game Pass. It feels like Ubisoft has been whiffing lately, so I'm pulling for them to have a success here. The other multiplatform game I noticed that's coming out on every platform is Blackwind, which I'd never heard of, but I have to admit the trailer on Steam makes it looks cool. Maybe an action RPG like Ascent or Diablo or 40K: Martyr maybe?
Monday, January 17
Blade Assault | PC
Shadow Man Remastered | Switch
Dobo's House | Switch
Racing Classics PRO: Drag Race & Real Speed | Switch
Top Bike: Racing & Moto Drag | Switch
Kubi Adventures | Switch
Tuesday, January 18
River City Girls | PS5
Nobody Saves The World | Xbox Series X/S, Xbox One, PC
Labyrinth Legend | Switch
Drowning Cross | Switch
Blacksmith Legends | PC
Wednesday, January 19
Dysmantle | Xbox One
Hatsune Miku Logic Paint S | Xbox One, PC
Guild of Ascension | Switch
Vivid Knight | Switch
Alina of the Arena | PC, Mac
Thursday, January 20
Windjammers 2 | PS4, Xbox One, Switch, PC
Tom Clancy's Rainbow Six: Extraction | PS5, PS4, Xbox Series X/S, Xbox One, PC
Dimension Tripper Neptune: TOP NEP | PC
Blackwind | PS5, PS4, Xbox Series X/S, Xbox One, Switch, PC
Expeditions: Rome | PC
RPGolf Legends | PS4, Xbox One, PC
Demon Hunter | Switch
Animal Revolt Battle Simulator | Switch
Scrapnaut | Switch
Nature | Switch
Road Bustle |Switch
Alien Destroyer | Switch
Dragon Hills 2 | Switch
Pyramid Quest | Switch
Pixel Game Maker Series THUNDER STRIKER | Switch
JankBrain | Switch
Make The Burger | Switch
Warno | PC
Aquamarine | PC
Pupperazzi | Xbox One, PC, Mac
Trinoline Genesis | PC
Startup Panic | PC
Friday, January 21
Gravity Chase | Xbox One, PC
The Company Man | Switch
Merek's Market | Switch
Baby Storm | Switch
Go Minimal | Switch
Dungeons of Shalnor | Switch
Kinduo | Switch
Word Game | PC
Strange Horticulture | PC
Saturday, January 22
Jack 'n' Heat | Xbox Series X/S, Xbox One, PC
Hammer Kid | Switch
!!!
I mean, there are more shop management/crafting games than ever these days, but most have left me flat. So, this is me getting excited for a couple days before early returns show it isn't much better. :)
Blacksmith Legends is a RPG management strategy game. You inherit a small workshop from your parents with a dream to become a real legend in your profession. With all your family fortune you set out to: Craft the best items you ever imagined; Develop your estate and your workshop; Hire other professionals to tinker with your recipes; Create opportunities for greater riches by completing various quests that can get you on a darker (mischievous) or lighter (righteous) path on your way to creating the best Blacksmith Legends in the Kingdom!
This is the one that interests me.
The demo on Steam was pretty well polished. Interested as well.
I think I need this in my life right now.
Looking forward to Rainbow Six Extraction on Thursday. Expedition Rome looks great but holding off until I play through Vikings first. Alina also looks good.
Hitman 3 is coming to Steam and Gamepass on the 20th.
Also getting official VR support which is supposed to be very good.
Yeah, hopefully this one actually lets you focus on the management side rather than forcing you to do dungeon runs yourself. If I want to play a dungeon crawler I'll play something that does only that, like Diablo or PoE or something. I basically want something like the Kairosoft version of this, where dungeon runs are entirely automated, but more complex on the economy side. Also not sure I like this being in 3D.
Agree with both of these points.
I've played through and finished Kairosoft's Dungeon Village 3 times over the years. I want exactly that with slightly more complexity. Or something like Reccettear with minimal dungeoneering. I guess what I want is a combination of those two. Focus on one shop and then all the heroes come in a buy my beautiful wares.
I'm sure a new Pokemon game will be a wallet threat to some. Maybe the new Serious Sam game. Lots of games with strange names coming out this week. You'll have to let me know if any of them look appealing. I guess I have to decide if the new Uncharted collection is something I want to get. I don't plan to get a PS5 until the Pro, but for owners of Uncharted 4 or Lost Legacy (I own both), you can pay $10 for the PS5 upgrade, but only for the next week, I think? I'm not sure I want to reward that kind of a deadline.
Monday, January 24
Hidden Deep | PC
The Demon Lord Is New In Town | PC
Tuesday, January 25
The Artful Escape | PS5, Switch
Mortal Online 2 | PC
Cannibal Cuisine | PS5, PS4, Xbox Series X/S, Xbox One
Reverie Knights Tactics | PS5, PS4, Xbox One, Switch, PC
Serious Sam: Siberian Mayhem | PC
Wednesday, January 26
Elasto Mania Remastered | PS5, PS4, Xbox Series X/S, Xbox One, Switch
Cake Invaders | PS5, PS4, Xbox Series X/S, Xbox One, Switch
Summertime Madness | Xbox One
Gav-Gav Odyssey | Xbox One, PC
PopSlinger | Switch
Froggy Crossing | Switch
Thursday, January 27
Vagnate | Switch
Hotel Life: A Resort Simulator | PS5, PS4, Xbox Series X/S, Xbox One, Switch, PC
S.W.A.N: Chernobyl Unexplored | Xbox Series X/S, Xbox One
The Longest Road On Earth | PS5, PS4, Xbox Series X/S, Xbox One, Switch
Circuit Superstars | PS4
Wanderer | PS4, PC
COGEN: Sword of Rewind | PS4, Xbox Series X/S, Xbox One, Switch, PC
Gunvolt Chronicles: Luminous Avenger iX 2 | PS5, PS4, Xbox Series X/S, Xbox One, PC
Gomoku Let's Go | Switch
Unforeseen Incidents | Switch
Concordia: Digital Edition | Switch
Crazy Athletics - Summer Sports and Games | Switch
Serin Fate | Switch
Pandemic Shooter | Switch
Magi Trials | Switch
Crush Crush | Switch
Hidden Paws | Switch
Deflector | PC
Friday, January 28
Vagante | Xbox One
Super Onion Boy 2 | PS5, PS4, Xbox Series X/S, Xbox One
Uncharted Legacy of Thieves Collection | PS5
Pokémon Legends: Arceus | Switch
Active Neurons - Puzzle Game | Xbox Series X/S
Record of Lodoss War: Deedlit in Wonder Labyrinth | Switch
Don't Be Afraid | Switch
Circus Pocus | Switch
Re: Turn 2 - Runaway | Switch
Peace, Death! 2 | Switch
Rogue Tower | PC
Saturday, January 29
Calturin | Xbox One
Magic Pen Color Book | Switch
Broken Blades | Switch
Whee, finally. Quality symphony of the night clone.
I did enjoy the Hidden Deep demo a while back…but I see it is releasing as early access.
This wasn't on the list, but apparently came out today.
I've never heard of it.
Hold on to your wallets! Wallet threat level will be high this week for fans of Dying Light, as the sequel comes out this week. Other higher profile titles include Life is Stranger Remastered, which seems like a strange choice for a remaster treatment.
Monday, January 31
Treasure Hunter Man 2 | Switch
Tuesday, February 1
Dyna Bomb | Xbox One
Life is Strange: Remastered Collection | PS5, PS4, Xbox Series X/S, Xbox One, PC
Storyteller | Switch, PC
Kharon's Crypt - Even Death May Die | Switch
GUNGUNGUN | Switch
Wednesday, February 2
The Sealed Ampoule | PS4, Xbox One, Switch
The Waylanders | PC
Webbed | Xbox One, Switch
Invert | Switch
Yeah Yeah Beebiss II | Switch
The Dead Tree of Racniuna | Switch
Thursday, February 3
Sherlock Holmes: Crimes and Punishment | Switch
The Hundred Year Kingdom | Switch, PC
1CC Games Shump Collection | Switch
Food Delivery Battle | Switch
Draw A Stickman: Epic | Switch
Super Shadow Break: Showdown! NINJA VS THE THREE KAIJUS | Switch
Phlegethon | Switch
Friday, February 4
Dying Light 2: Stay Human | PS5, PS4, Xbox Series X/S, Xbox One, PC
Croc's World Construction Kit 2 | Xbox One, PC
Ambition Record | Xbox Series X/S, Xbox One, PC
Maglam Road | PS4, Switch
Frog Ball Rerolled | Switch
Math Gym | Switch
Mille and Molly | Switch

#1

Crosswords Sudokus Bundle | Switch
Alexio | Switch
The Song Out Of Space | Switch
Land of Screens | Switch
Saturday, February 5
Mania Fish | Switch
Jumping Helix Ball | Switch
Pirate's Gold | Switch
Also, the opposite of a wallet threat, Dreamscraper comes to Game Pass this week: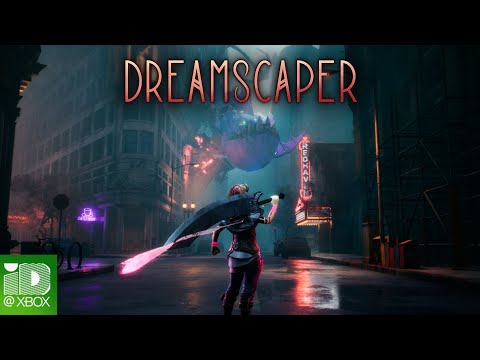 Looking forward to that.
I'm intrigued by this one.
Yeah the demo was sweet, I think it was our parangon of good taste @geggis who pointed a bunch of us to it.
Oooo, it's out in February! Thanks for the ping @Left_Empty (and the kind words). The demo was delightful and the visuals are just gorgeous!
The next 6 weeks is one of the most jam-packed AAA release schedules I can remember.