I was just involved in a dual in X2… for the last 15 minutes I've been circling around this fucker… hitting him with my lasers… but not actually killing him.
He takes a shot at me and takes my shields down… no problem… they go back up… I get in tight and go for a quick shot and he hits me with his ship.
I explode. Game over.
The most annoying thing about that is that his hull was on 7% …mine was on 90%.
I've noticed it a lot in space games… actually I've noticed a few things.
First of all is I'm shooting lasers but the beams of light I'm shooting move slower than bullets. Sure - I understand that they need to be that way so that the player can see where they're shooting but really I'm shooting light. I've heard it tends to move very fast.
The next is damage. If I'm shooting at someone why is it that my lasers don't do anything except take down sheilds and then a little bit of hull? This wouldn't be so bad if the lasers I'm shooting weren't on a limited power source. To be honest with you I'd like to be able to go up against an enemy and kill them without prancing around for thirty minutes while waiting for their shields to go down and waiting for my weapons to power up. It's just not fun.
I'm not sure if it's just X2 that does this - but I wish it was taken out of the game. During the fight I'd pump my enemy full of light and he'd pop up on my video screen/radar and with the voice like Cheech Marin on helium scream at me "For the queen!". The only thing I want to hear from my enemy during a fight is "IT BURNS OH HOW IT BURNS!" or "DAMN YOU!" and even then they'd only say that before they exploded in a ball of fire!
I'll give another tip to the makers of the 'X' games - though I'm sure it will apply to other Space Sim devs. If your game doesn't hande people very well - then pre-rendered video is great. Not FMV (unless you've managed to get The Walken and Sammy Jackson as actors)… just normal pre-render .avi's is fine. The models don't even have to be great - just a little better than ;
and not as freaky as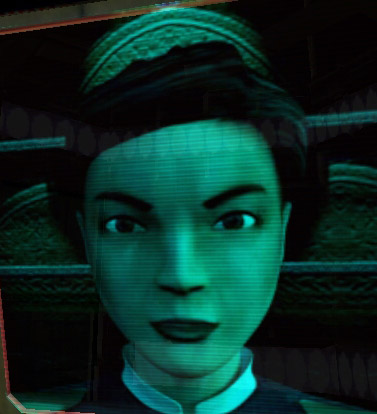 I don't really want to stop playing the game though. I kind of like the trading system but the combat is really off putting. I was considering getting a copy of X3 later on down the track… but after this I'm not certain.